For The Love Of StoriesBig Finish produce fantastic full-cast audio dramas for CD and download.
The 2022 Free Short Trip Has Arrived!
29 December 2022
The winning story of the seventh annual Paul Spragg Memorial Short Trips Opportunity is now available to download as an immersive audiobook from Big Finish Productions.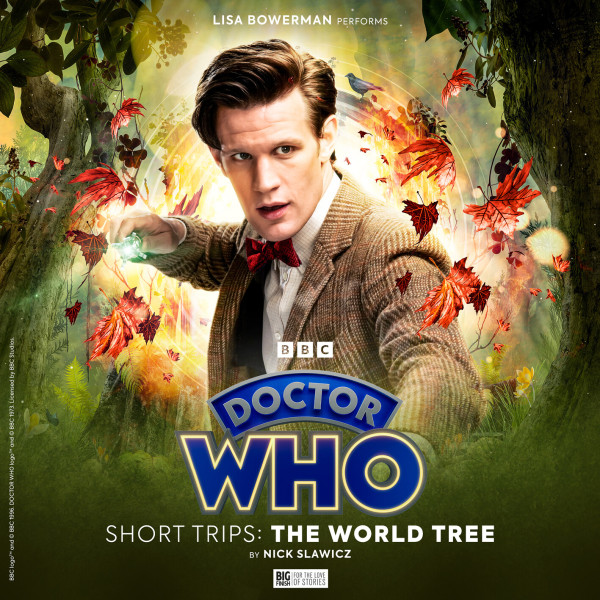 Each year, Big Finish runs a Doctor Who short story competition in honour of Paul Spragg – the dearly missed and much-loved producer's assistant who encouraged aspiring writers.
The World Tree, written by Nick Slawicz, was selected as this year's winning entry and has now been produced as a Doctor Who – Short Trip audiobook. This Eleventh Doctor adventure, narrated by Lisa Bowerman, is released today, on what would've been Paul's birthday.
Nora Wicker is forgetful. Not big things – not yet, anyway. She remembers her address and where the shops are. She remembers people when they come to visit, no matter how rare that is.
But she doesn't remember where the bush with the red leaves in her garden came from – and she definitely doesn't remember asking for a house call from the Eleventh Doctor.
Lisa Bowerman said: "It's such a lovely story and it was an absolute pleasure to be back having a read of a Short Trip. Nora is a very sympathetic and well-delineated character. I found Nora's voice when I was reading – it just seemed to fall naturally."
Below is a Q&A with the writer Nick Slawicz about his winning story:
What was it like finding out that you had won?
"I was mostly surprised as I know how many people enter this opportunity every year. It was shocking to especially see Peter Anghelides' name pop up as I have one of his books on my shelf!"
What was the inspiration for your story?
"I started out wanting to write a story where time was important. One of my favourite things about the Eleventh Doctor is that he's a character who throws time as a way of solving problems. I wanted to capture that with the idea of 'what would happen if the Doctor was the one who caused the problem and also had to solve it?'. It built from there!"
Why did you decide to write an Eleventh Doctor story and how did you find it?
"Everybody has their own Doctor and for me it's always been the Eleventh right from the first episode. When it came to writing for Eleven it was important for me to get the two aspects together where he's an old mind with a young face. He's also desperate to be the smartest person in the room.
"[The story finds] him dealing with a problem he's caused and somebody who's dealing with the loss of stories that make up such an important part of the Eleventh Doctor's era. The idea of being able to touch upon all of those parts in what is effectively a very short piece of work was a large part of the appeal of picking the Eleventh Doctor."
What advice would you have for anyone entering next year's opportunity?
"Try and have a story that fits the 5,000 words that you get to tell it. If you stretch it out too thin, you're just going to have to cut things and it'll absolutely break your heart to delete the best joke you've ever written."
Doctor Who – Short Trips: The World Tree is now available to download for free exclusively here.
The 2022 judging panel comprised Big Finish's Creative Director, Nicholas Briggs, former Doctor Who Brand Editorial Manager, Gabby De Matteis, Producer of the Doctor Who – Short Trips range, Alfie Shaw, and the winning entry's Producer and Script Editor, Peter Anghelides.
The six previous winners of the Paul Spragg Memorial Short Trips Opportunity, all available to download for free, are:
2016: Doctor Who: Forever Fallen by Joshua Wanisko
2017: Doctor Who: Landbound by Selim Ulug
2018: Doctor Who: The Last Day at Work by Harry Draper
2019: Doctor Who: The Best Laid Plans by Ben Tedds
2020: Doctor Who: Free Speech by Eugenie Pusenjak
2021: Doctor Who: The Lichyrwick Abomination by Joe Vevers