We love StoriesBig Finish produce great full-cast audio drama for CD and download, featuring many popular television fantasy series.
The Avengers Comic Strips
19 January 2019
The Avengers are back in the third volume of The Comic Strip Adaptations - out next month. Based on the adventures of Steed (Julian Wadham) and Tara King (Emily Woodward) in the TV Comic Strips - here are more details on these latest Avengers adventures.
Out for release next month, The Avengers: The Comic Strip Adaptations Volume Three finds John Steed and Tara King continuing their capers in four fantastic stories: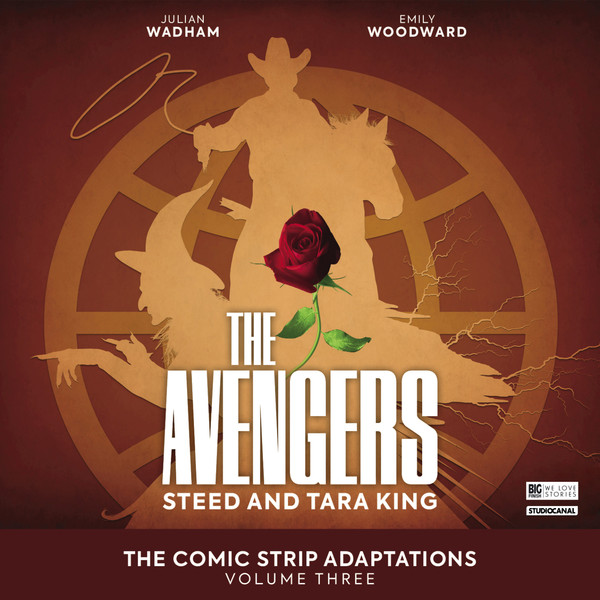 1. It's a Wild, Wild, Wild, Wild West by John Dorney
Steed is quick on the draw, Tara gallops away.
After reports suggest a series of robberies in the New Forest were committed by cowboys, Mother sends the Avengers into action.
The trail leads to the Western style ranch known as The Lazy J. But will it be high noon for Steed and King?
2. Under the Weather by Phil Mulryne
Steed is put on ice, Tara is blown away.
Steed, Tara and Mother visit an air show to see a demonstration of a new aircraft.
But the plane is stolen from under their noses... and seemingly... by a storm! Something strange is in the air. And it needs the Avengers to sort it out.
3. Spycraft by Robert Khan and Tom Salinsky
Steed meets his equal, Tara gets the cream.
When a visiting dignitary is kidnapped on British soil, Steed and King have to leap into action.
But with questions of diplomatic immunity getting in the way, they may need help from an unusual pair.
4. ...Now You Don't by John Dorney
Steed finds things get tricky, Tara takes the stage.
A strange gift leads to Steed and Tara King spending a night in the theatre. But who brought them there? And why?
An old enemy of the Avengers is on the scene. And he will stop at nothing to get his revenge!
Julian Wadham reprises his role as John Steed and Emily Woodward continues her role as Tara King from last year's release The Avengers – Too Many Targets.
In the first adventure, It's a Wild, Wild, Wild, Wild, West, Christopher Benjamin returns as Mother, along with a stellar cast comprising Hywel Morgan (appearing recently in Survivors series 8), Daniel Easton and Karina Fernandez. Leighton Pugh, James Joyce (Captain Josh Carter in UNIT) and David Sibley join Avengerworld in Under the Weather. Edward Dede, Natalie Simpson and Jude Owusu get in the action in Spycraft, and Nicholas Asbury (who listeners will recognize from the recent The Diary of River Song Series 4) and Maggie Service tie off this box set in …Now You Don't.
Tara King actor, Emily Woodward, told us: "I'm very excited to be returning to the role of Tara King for a full series. She's a lot of fun to play and we certainly had a lot of fun recording it. I'm very proud to be a part of The Avengers and of Big Finish."
And script editor, John Dorney, explains more about these ongoing adventures: "This batch of stories are as colourful and crazy as Avengerland gets! Cowboys at large in the New Forest, weather-controlling scientists, unusual coups and vengeful magicians all get a look in against Steed, Mrs Peel and Miss King (working under the ever watchful eye of Mother). If they're even half as fun to listen to as they were to make, you'll have a blast!"
The Avengers: The Comic Strip Adaptations Volume Three is available for pre-order at £30 for the CD box set or £25 on download. Or why not save money by ordering Volume Three in a bundle with Volumes Four and Five of The Comic Strip Adaptations.
The Comic Strips Adaptations Volume Four with Steed and Emma Peel (played by Olivia Poulet) will be released in 2020, and The Comic Strips Adaptations Volume Five with Steed and Tara King will be released in 2021. This bundle is available for £87 on CD or £70 on download from Big Finish here.