We love StoriesBig Finish produce great full-cast audio drama for CD and download, featuring many popular television fantasy series.
6 January 2019
The holiday season keeps on going with Big Finishmas this week. Plus, there is the release of the new Counter-Measures and a new Big Finish book club! Don't miss out on any of the special offers, news and releases in the Big Finish roundup. Allons-y!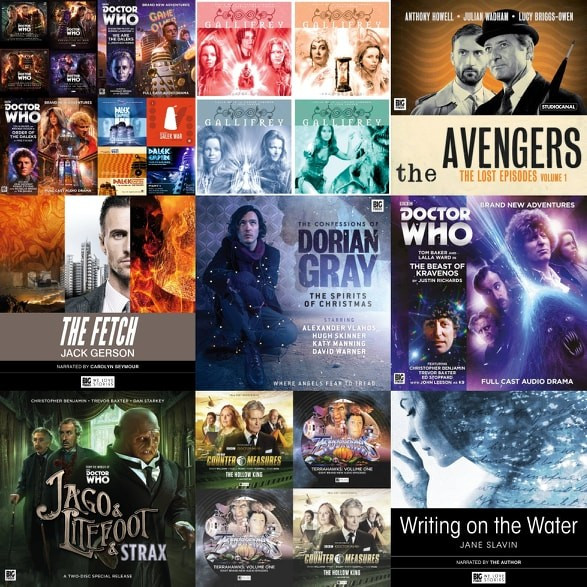 This week we kept the holiday celebrations going, with the 12 days of Big Finishmas. We're saying farewell to 2018 and a big welcome to 2019 with some special download offers.
On the first day of Big Finishmas, Big Finish gave to me… a Victorian mystery with Jago & Litefoot & Strax!
Strax, the Sontaran butler to Victorian investigator Vastra and her wife Jenny, suffers a disorienting attack and mistakes the two Victorian investigators Jago & Litefoot for Jenny and Vastra and moves into Litefoot's home. Together, they are on the trail of a creature that is stealing brains, which may or may not be linked to a haunted house in London...
The Spirits of Christmas starring Alexander Vlahos as Dorian Gray, comprises two hour-long adventures, pitching Dorian against a slew of festive horrors.
We have two Baker stories on special offer: a mysterious encounter for the Fourth Doctor by Marc Platt and the Sixth Doctor returns to the courtroom once more… but this time he's defending the Valeyard!
Co-starring with Colin Baker as the Sixth Doctor are his fellow jurors from Trial of a Time Lord, Michael Jayston plays the Valeyard and the late Lynda Bellingham reprises the Inquisitor.
There's also a classic Fourth Doctor story, with Night of the Stormcrow.
There's plenty for listeners of spy dramas at Big Finish, and with the return of The Avengers in February next year, now is the perfect time to catch up with the first volume of The Avengers – The Lost Episodes.
On the fifth day of Big Finishmas, Big Finish gave to me… five stars in a Fourth Doctor adventure. Doctor Who: The Beast of Kravenos is now available at just £2.99 on download.
For those looking for a longer read and a story with more twists and turns than you can believe, look no further than Omega Factor creator Jack Gerson's novel, The Fetch, read by Carolyn Seymour.
For Big Finishmas you can get the four stories in the first Gallifrey series at just 99p each on download.
You can also get the four series of The War Doctor, starring the late John Hurt and Jacqueline Pearce on special offer. The Time War continues to ravage the cosmos and we find out why the War Doctor abandoned the title of 'Doctor'…
Only the Monstrous, Infernal Devices, Agents of Chaos and Casualties of War are each available at £18 on download.
Plus, there's the Sixth Doctor story, Order of the Daleks, starring Colin Baker as the Sixth Doctor, Miranda Raison as Constance Clarke and Stainley the Dalek (as featured on the cover) on special offer at £4.99.
And the Seventh Doctor story We are the Daleks, starring Sylvester McCoy and Bonnie Langford, is also available at download on £4.99.
On the ninth day of Big Finishmas, Big Finish gave to me… a gripping story by our new Fourth Doctor companion. The audiobook of Jane Slavin's novel about obsessional love and desire is read by the author. Writing on the Water by Jane Slavin is now available at just £2.99 on download during Big Finishmas.
Have you ever loved someone enough to die for them? Or even kill for them...?
Ellen Millar is an independent soul. An actress whose star is in the ascendant, she also has a partially decorated flat, a mountain of debt and some seriously good friends to sustain her. Into the equation of her life comes Aedan. An Irishman. Their attraction is instant; their affair intense and all-consuming. This five-day courtship is the prelude to a life together, until Aedan returns to Ireland and realizes that some emotional entanglements are impossible to untie.
Plus, on the tenth day of Big Finishmas, Big Finish gave to me… the first series of Terrahawks!
Back in action after over thirty years comes Terrahawks, the fondly remembered action adventure comedy originally brought to you by the men who created Thunderbirds, Captain Scarlet and Dick Spanner. The first series is now available on download at £4.99.
You can listen to Torchwood – The Victorian Age at a special Big Finishmas price on download at just £2.99.
Plus, Doctor Who – The Memory Bank and Other Stories is available at just £2.99 on download for Big Finishmas.
What a great bunch of bargains on download! Head to page https://www.bigfinish.com/offers/v/bigfinishmas18 and use offer code 'KRAMPUS' to access all these special Big Finishmas offers, which end at 23:59 (UK time) on 07/01/2019, so don't miss out.
Last year we were delighted to celebrate 30 years of Counter-Measures and this release is the icing on the Counter-Measures cake. The Hollow King is out now.
They say lights have been seen in the skies over Swammcombe. They say this is the place to spot flying saucers. Allison Williams is not so convinced. But maybe Allison Williams is wrong. When she witnesses a UFO launch from the top of a hill is it signs of alien activity... or something more sinister?
Counter-Measures are looking into Open Band – the disciples of the so-called Swami of Swammcombe, Lord Cavall. They've been been monitoring Cavall since noticing a curious rise in psychiatric cases among his followers…
How true are Cavall's teachings? What happens during the elite 'Visualisation' sessions? And what does this all have to do with the king under the hill?
The Hollow King is available now at £10.99 on CD or £8.99 on download.
Plus, we have some exciting news to announce, with the new and official Big Finish Book Club. Every month we will feature a different release from the Big Finish catalogue, with a special discount on the digital download price. Then head over to sign up to our new Facebook group, The Big Finish Book Club.
We'll be posting some talking points to kick things off, and then at the end of the month we will host a discussion session, and all have good (virtual) natter. We're hoping to be able to involve some of our writers in future sessions, and you'll able to post your questions for them about any plot points which have got you baffled. Just like a traditional book club but designed to involve our listeners all over the globe.
To launch the Big Finish Book Club, we are kicking off with THREE Blake's 7 releases on offer throughout January 2019 at a discounted price.
And that's the news this week. Keep in the know by following us on Facebook, Twitter and Instagram.