We love StoriesBig Finish produce great full-cast audio drama for CD and download, featuring many popular television fantasy series.
The Confessions of Dorian Gray: Scott Handcock Interviewed!
22 June 2016
Oscar Wilde's classic story of hedonism and corruption comes to life in Big Finish's acclaimed original series. In an exclusive interview, creator Scott Handcock tells us about the creation of these gripping stories and what awaits Dorian in his final confession....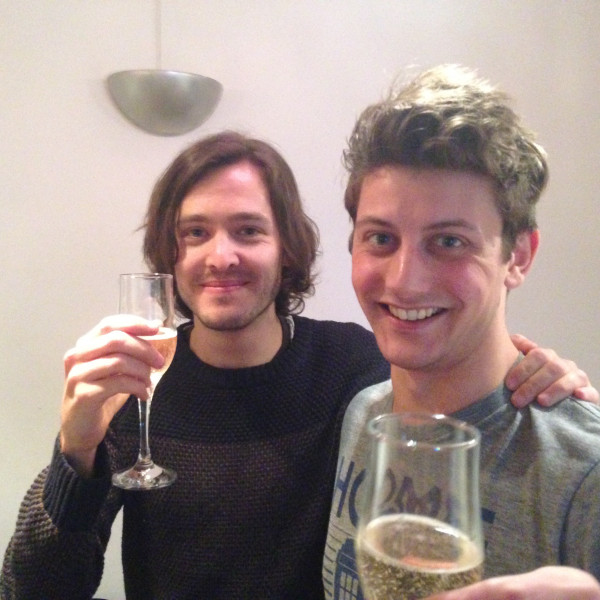 Since 2006, Scott Handcock has worked as a writer, director and producer for Big Finish. From Frankenstein, to Gallifrey and even our special crossover The Worlds of Big Finish, Scott has contributed to countless classic stories and series. But perhaps his biggest success has been The Confessions of Dorian Gray, a gripping original series based on Oscar Wilde's infamous novel.
With the complete series on special offer today, Scott sat down to give us a exclusive interview on his work with the series; how he met leading man Alexander Vlahos; and what awaits Dorian in his final series...
How did The Confessions of Dorian Gray come about? How did you pitch the series to Big Finish?
Funnily enough, as we near the end, I've started going back through the history of the Confessions series recently, and I was surprised to rediscover just how long it's been ticking away for. It's been rumbling away at the back of my mind ever since 2010 when I drafted the first few storylines and an overall pitch. Surprisingly, most of the ideas later found their way into the various series, so clearly they stuck with me!
As far as pitching was concerned, it wasn't easy. Big Finish initially turned it down. It was a massive risk for them, back in 2010. I was only just beginning to produce and direct, under the tutelage of Gary Russell on the Bernice Summerfield and Gallifrey series, so there was no guarantee I'd be a safe pair of hands for something like this. It was also an original concept (albeit based on the novel by Oscar Wilde) so there was also no established audience guaranteed. It was enormously risky and, if I'm honest, I'd probably have made exactly the same decision at the time.
Still, Gary was rather taken with the concept and galvanised me not to give up on it, so I kept on chipping away at it in the background. Indeed, he loved the idea so much, he commissioned a Bernice Summerfield script based round it in April 2011. I was quite reluctant to do that, actually. I took a bit of persuading. In the end, however, it was an opportunity to prove to myself if the concept had legs, and Gary had faith that it could work, so basically that's how it started.
Separate to this, I was still working on a pitch for the series itself. I was slowly beginning to spread my wings as a director and assistant producer, and Dorian would serve as a test to see if I could undertake a project on my own. Even then, it was an extremely difficult sell. There were too many unknown quantities.
So I made life difficult for myself instead. I stripped everything back as much as I could. We recorded material at an increased pace to cut back on studio time. We cut back the cast budget drastically. Savings were made wherever I was able - we made it download-only at first to avoid committing to pressing costs - until, in the end, it became a far less terrifying gamble. Gary Russell was hugely supportive, as was Nick Briggs, who was very much of the opinion that Big Finish should be expanding its portfolio and originating new material. So it was a combination of factors, time and proving there was an audience out there who wanted it. (Thankfully, there was!)
How did you first meet Alexander? Did you have him in mind for the role?
Rather embarrassingly, the first time I met Alex in the flesh was at the Moat Studios in November 2010, though we had mutual friends and had been chatting a bit beforehand. I knew who he was though, obviously. I'd been working at BBC Wales Drama since 2006, and the acting community in Cardiff is quite close-knit, so it's relatively easy to keep abreast of who's around. Alex had just appeared in a medical drama series called Crash which I'd been involved with as part of my wider role in Drama, and I must have made a mental note to work with him at some point. Then, when Gallifrey: Series 4 came up, I discovered we knew people in common and dropped him a note to ask if he fancied it. Obviously, I then discovered he's a massive fanboy and he was delighted by the idea - especially as it meant he'd be working with Lalla Ward, Louise Jameson, Katy Manning and Geoffrey Beevers! So yeah, that's when we first met properly…
We kept in touch afterwards about various projects, just touching base on what we were both working on, etc. Then, in early 2011, we went for dinner in Cardiff: Alex, myself and Gary. It was just a general catch-up - I can't remember precisely what we talked about - but there was something about that evening that convinced me that, if the Confessions series were ever to happen, Alex would be my Dorian. Weirdly, the very same thought occurred to Gary Russell. I can't remember precisely why now. Alex's natural charm undoubtedly played a part. He's also incredibly intelligent, with a very sharp sense of humour. Ultimately, it was a combination of factors, many I suspect would never have occurred to me if I'd gone looking, but all of which were present in Alex.
So yes, absolutely, I always had him in mind as Dorian; first for the Bernice Summerfield tale, then for the series. He was the only name I took to Big Finish and the rest, as they say, is history!
What are some of the key stories that have stood out for you over the course of the series?
There are quite a few key stories that have stood out for me over the series for various reasons. I won't wax lyrical about them all, but I'll sum up the big ones!
This World Our Hell: This is the one that proved Confessions could work. We were doing half-hour dramas, focussing on character and atmosphere, dressed in a healthy slathering of narration. We genuinely had no idea if people would try it. We certainly weren't expecting the response it received. That so many people were so vocal in their praise for that very first story undoubtedly contributed to the series' ongoing success. If it wasn't for those people who were willing to try something new, we'd never have run beyond that first series. So yes, This World Our Hell is crucial to Confessions having thrived!
The Heart That Lives Alone: This was the first script written. I had to set the tone for other writers and this was it! And again, I'm genuinely surprised at the reaction it receives. It's a love story between two men without being sexual, and it cheers me that people engaged with it the way they have, regardless of their own age, gender or sexuality. Even now, I still get messages from people telling me how much it's affected them, whether they're listening to it for the first or twentieth time. This was the one that seemed to really cement the fanbase…
The Mayfair Monster: Written by Alexander Vlahos himself (with Jolyon Westhorpe), this is a mad two-part New Year special that guest stars Hannah Spearritt, Colin Baker and marks the first appearance of Bernard Holley in the series.
Blank Canvas: A Dorian story without narration or Alexander Vlahos, written by the superlative James Goss. One of the creepiest stories to date.
The Living Image: An idea I didn't have time to write, but Matt Fitton elevated to something sublime. Every year, I've tried to throw something new at Alex to showcase his talents, and this is the ultimate! Dorian encounters his doppelgänger on a train and Alex gives a stunning dual performance as a result.
Ever After: The final episode. Sad to see it go, and not what I expected to write - we threw away a completely different script before tackling this one. It honours everything that's come before whilst at the same time finding somewhere new to take the characters. During lunchtime on recording day, Alex tried to persuade me to tweak the final scene. (I didn't).
The half-hour format was, at the time, a change from Big Finish's typical hour to two-hour long stories. Did you have this running time in mind from the beginning? Do you think it's helped the success of the series?
From a practical point-of-view, having half-hour episodes meant we'd be able to tell twice as many stories. I felt that was key to establishing something original like this: demonstrating its range in terms of tone and setting, which we could do far more easily across five half-hour episodes than two hour-long instalments. It also keeps things focussed, which I think is important when you have a very small cast. I didn't want people to ever find themselves clock-watching while they're listening to Dorian. Occasionally, but very rarely, we ended up suffering the exact opposite and rushing through too much story in too short a time. Generally, however, I think the format allowed us to do a lot of things that might not necessarily have succeeded across an hour, and it helped to set us apart from everything else in the Big Finish stable.
Series 5 will see the return of a number of supporting characters, including Captain James Anderson (Daniel Brocklebank), Dorothy Parker (Sarah Douglas) and even Oscar Wilde (Steffan Rhodri) himself. Why did you choose to bring these characters back, and what do you think made them so successful in the first place?
When Alex and I first discussed the final series, again, I was very keen to do something different from what came before. So this time, whilst we still have narration, it won't be Dorian telling the stories. Instead, it's his adventures as related by other people. With that in mind, we had to determine the significant figures in Dorian's life: people who knew and really cared about him.
Oscar was an obvious choice, as we were able to explore precisely how he and Dorian encountered one another, and how that friendship blossomed. Alex and I are both great friends with Daniel Brocklebank and Sarah Douglas following their first appearances in the series, so we were both extremely keen to reunite with them in studio. As characters, James has the advantage that he served with Dorian in the trenches for several years, and had quite an affecting relationship with him; Dorothy Parker, meanwhile, enables us to travel across the Atlantic and have some fun before the very final episode. So it was born out of a desire to do something a little different with the format, but also work with some of our favourite guest stars before the end.
What was lovely, of course, is there was never any guarantee that people would want to return but everyone did! I think it's a testament to the environment we create in studio with Dorian and Big Finish that not one person hesitated about returning for the final series. And not just Steffan, Dan and Sarah, but also Hugh Skinner, Tracey Childs, David Blackwell and Bernard Holley! Somehow, we managed to make the schedules work. People even rearranged their diaries and came in on weekends! Everyone was just incredibly enthusiastic.
Are you planning to work with Alex again after Dorian? Can you tease any of your upcoming Big Finish projects?
We love working together, so yes.
It's funny to think that, when we embarked on Confessions all those years ago, we were both quite new to it all. It was my first proper time as a producer and director, and it was Alex's first ongoing leading man role. We've come a long way together, and developed a trust and shorthand that makes it a great deal of fun to work with one another. I know I can throw anything at him, and frequently do, and I'm very much looking forward to throwing a great deal more!
In terms of Big Finish, I don't know what I can say at this stage! Obviously, people know he came back a few weeks ago to record something with John Barrowman (not Dorian, sorry) and Alex has already teased another project which we'll be taking into studio later in the year - but again, I'm not sure what I can say about that one yet. It's a well-known story; a one-off rather than a series; and it completely takes me out of my comfort zone! It's a little bit daunting in that respect, but I'm very much looking forward to the challenge.
As for future projects, I can't imagine never planning something with Alex at some point, even if it's for something decades down the line. He's one of a kind. A brilliant actor, a brilliant friend and a brilliant Dorian! (Can you imagine if he'd said no back in 2012? It doesn't bear thinking about…)
You can hear more from Scott in The Confessions of Alexander Vlahos, a free interview download, featuring a candid discussion between Scott and Alex.
The Confessions of Dorian Gray: Series 5 will be released in October and can be pre-ordered today for only £25 on CD or £20 to download. The complete range is available at special offer prices until noon Thursday June 21st. Click here to explore the offers.