For The Love Of StoriesBig Finish produce fantastic full-cast audio dramas for CD and download.
The Dalek Occupation of Winter
12 September 2018
The first tale in a new series of Doctor Who - The Early Adventures is out today. The First Doctor, Vicki and Steven Taylor face the Daleks once again, but it's a Dalek tale like none you've ever heard before....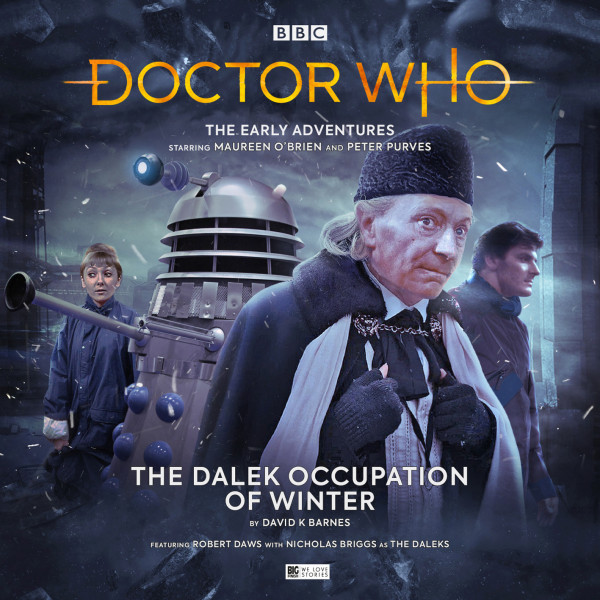 The Dalek Occupation of Winter is out now.
The TARDIS lands in the capital city of a planet deep in the midst of an endless winter. The population are celebrating a new crop of candidates winning roles at the scientific research centre. Those who go there dedicate their lives to continued service and are rarely, if ever, seen again. Not everyone is happy to see them leave.
As the Doctor, Steven and Vicki watch, the city leader – Majorian – invites onto the stage in front of the happy crowd their 'friend who made all this possible'… and a Dalek appears.
The people of this planet seem to be living in perfect harmony with the Doctor's old enemies. But the TARDIS crew know this cannot be true. So what's really going on?
David Richardson explains the series five master plan and the involvement of the Daleks in their first Early Adventures tale: "The plan for this run was to do a season of 1960s Doctor Who. Of course, we couldn't manage 48 episodes' worth – that would have been madness – but we've made 16 new episodes with Peter Purves and Maureen O'Brien that all follow on from each other and take the listener on a magical journey through time and space.
"John Dorney suggested writer David K Barnes to me, and what a find he is. After 54 years of Doctor Who, it's not easy to find a new slant on a Dalek story, but by golly David has done it almost effortlessly. The Dalek Occupation of Winter is a beautiful piece, so rich in imagery and character – and of course threat…"
David K Barnes, writing for the first time for Big Finish, told us what it was like to be writing for the era of the First Doctor: "I was asked by David who said, 'we'd like a story with the First Doctor, Stephen and Vicki, and the Daleks, I'd like you to do something a little bit different with the Daleks, but how you interpret that is entirely up to you'. The idea I pitched was that the Doctor and his companions land somewhere, they wander the streets and there are Daleks…!"
Peter Purves, who voices both Steven Taylor and the First Doctor, told us about this new scriptwriter: "I like this script, the way it comes off the page. It tells the story absolutely perfectly and you discover things at just the right moment… I think David's done a marvellous job with the script. I hope we do it justice!"
Maureen O'Brien, who plays Vicki, agrees: "It does not go the way you expect… it really is quite a heavy dose of realism in this script, which is quite strange when applied to something that is total fantasy! But it's an excellent script."
You can buy The Dalek Occupation of Winter now at £14.99 on CD or £10.99 on download. Don't forget that all CD purchases unlock a download option via the Big Finish app and the Big Finish website.
Or you can save money with a subscription. Get all four volumes of series five of Doctor Who – The Early Adventures for £45 on CD or £40 on download – remember that in this set of The Early Adventures all four stories are chronologically consecutive making a seamless series.
Plus, the extensive episode lengths on the first of this year's The Early Adventures means that there will be an extended version of the CD extras as supplementary material for all Big Finish listeners.
Up next, the First Doctor, Steven and Vicki have found utopia, but a utopia for who? Find out in An Ideal World this October.
Many light years from Earth, a vast human spaceship hangs in orbit over a cloudy alien planet. The crew have been travelling in cryosleep for many years, looking for a habitable world to settle, and have at last located one with potential.
However, they're not the only people to have arrived in this place. The TARDIS has landed on the planet's surface. The Doctor, Steven and Vicki explore and quickly find themselves separated.
But it isn't merely the hostile environment and rogue terraforming drones they'll have to deal with. Something else is living on this world. Something deadly and waiting to consume.
It's an ideal world. But ideal for whom?