5.1. The Dalek Occupation of Winter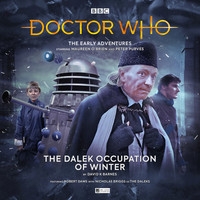 Released September 2018


Prices
| | |
| --- | --- |
| CD | US $19.89 |
| Download | US $10.99 |

Synopsis
"I'm going to be keeping an eye out for David K Barnes' name on stories in future because based on this, he's going to be a great addition to the Big Finish roster. A stunning debut on the range, and one of the best Dalek stories for some time. 10/10" SciFi Bulletin
The TARDIS lands in the capital city of a planet deep in the midst of an endless winter. The population are celebrating a new crop of candidates winning roles at the scientific research centre. Those who go there dedicate their lives to continued service and are rarely, if ever, seen again. Not everyone is happy to see them leave.
As the Doctor, Steven and Vicki watch, the city leader – Majorian – invites onto the stage in front of the happy crowd their 'friend who made all this possible'… and a Dalek appears.
The people of this planet seem to be living in perfect harmony with the Doctor's old enemies. But the TARDIS crew know this cannot be true. So what's really going on?
Written By: David K Barnes
Directed By: Lisa Bowerman
Cast
Maureen O'Brien (Vicki), Peter Purves (Steven Taylor), Shvorne Marks (Amala Vost), Robert Daws (Gaius Majorian), Sara Powell (Jacklyn Karna), Matthew Jacobs-Morgan (Kenrik Vost) and Nicholas Briggs (The Daleks). Other parts played by members of the cast.
Producer David Richardson
Script Editor John Dorney
Executive Producers Jason Haigh-Ellery and Nicholas Briggs