For The Love Of StoriesBig Finish produce fantastic full-cast audio dramas for CD and download.
The Fifth Doctor's anti-communist alliance
20 June 2023
Peter Davison stars in a brand-new full-cast audio adventure set in Soviet-era Warsaw, due for release in September 2023 from Big Finish Productions.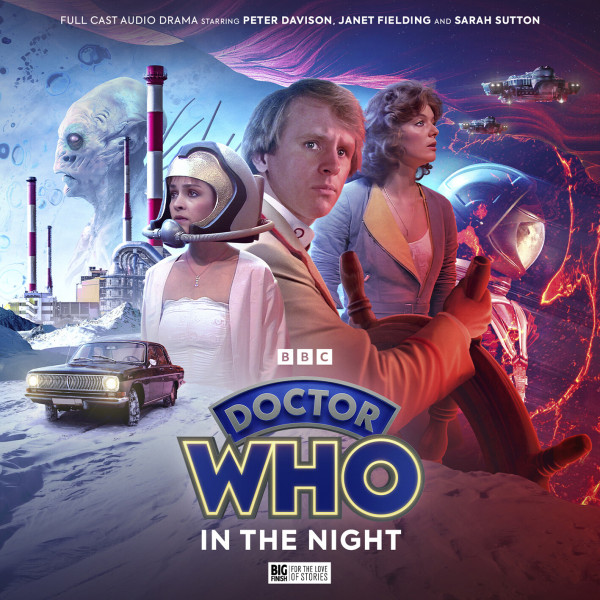 Forthcoming audio drama, Resistor, by Sarah Grochala, takes the Fifth Doctor's TARDIS team behind the Iron Curtain and straight into Cold War conflict.
Regular companions Janet Fielding (Tegan) and Sarah Sutton (Nyssa) lead a guest cast including Niky Wardley (returning to the worlds of Doctor Who as Iza, the singer in a Polish punk band), Daniel Easton (as Roman, the bassist), Chris Lew Kum Hoi (as Hao, the drummer) and Ben Porter (as Zastri, an alien in trouble on Earth).
This two-part pseudo-historical joins Tim Foley's four-parter, Pursuit of the Nightjar, to complete the box set release, Doctor Who – The Fifth Doctor Adventures: In The Night, now available to pre-order for just £19.99 (collector's edition CD box set + download) or £16.99 (digital download only), exclusively here.
Resistor by Sarah Grochala
The TARDIS lands in a basement beneath a club in Warsaw in 1982 - which is a bit of a surprise as the Doctor was hoping to take Nyssa and Tegan to Yugoslavia.
But a bigger surprise is yet to come – the band on stage are missing one of their musicians. And getting them through the gig is only the start of the TARDIS crew's troubles.
Something strange is happening on the streets. Black cars glide through the city, picking off the unwary. Some are driven by the Secret Police... but others... by something very much not of this world.
Writer Sarah Grochala said: "I really loved writing for the Fifth Doctor, Nyssa, Tegan and Adric for the Forty box set so it was a real pleasure to be asked to write for them again.
"My brief was a contemporary adventure in 1980s Europe, along the lines of Arc of Infinity in terms of setting. My family are Polish and I spent time in Warsaw as a child so I thought it would be interesting to take the TARDIS there, particularly thinking about Tegan's Eastern European heritage. The story draws on some local urban legends that felt like they might have alien origins."
Producer David Richardson added: "This box set release is called In the Night, and in the story Resistor there's definitely something nasty lurking in the night in Warsaw in 1982. Doctor Who can go anywhere and anywhen, and Sarah explores threats both alien and human in a country living within the Soviet Union – something that is within living memory for some of us!"
Praise for Sarah Grochala's previous Fifth Doctor Adventures story, God of War:
"A script that gives an invigorating twist on a familiar standby..."

– Blogtor Who

"Davison's final scene is a masterclass in understated grief..."

– Doctor Who Magazine

"Grochala makes us care about the characters we encounter along the way, and her handling of this TARDIS team is top-notch..."

– The Big Blue Box Podcast
Big Finish listeners can save money by pre-ordering The Fifth Doctor Adventures: In The Night together with April 2023's box set, Conflicts of Interest, in a bundle purchase for just £38 (collector's edition CD box set + download) or £33 (download only).
All the above prices include the special pre-order discount and are subject to change after general release.
Big Finish is currently operating a digital-first release schedule. The mail-out of collector's edition CDs may be delayed due to factors beyond our control, but all purchases of this release unlock a digital copy that can be immediately downloaded or played on the Big Finish app from the release date.