For The Love Of StoriesBig Finish produce fantastic full-cast audio dramas for CD and download.
The Noble Art of Self-Defence
19 April 2022
The star-studded ensemble cast is today revealed for a brand-new box set of The War Master full-cast audio dramas, due for release in June 2022 by Big Finish Productions.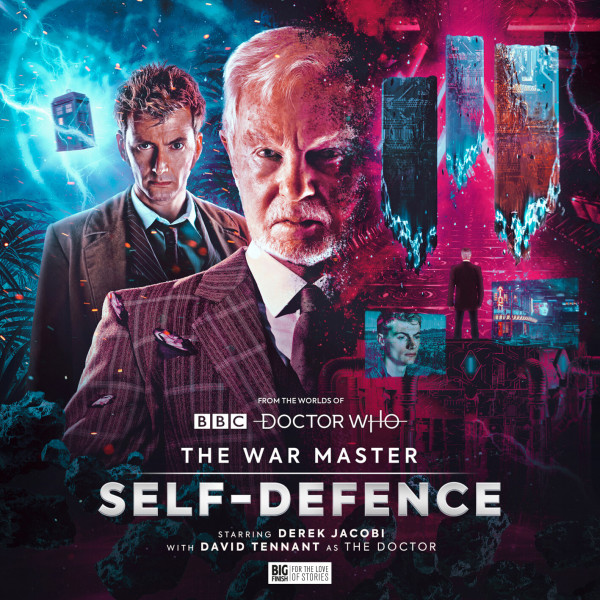 Sir Derek Jacobi is back as the Time War incarnation of the Master, who originally featured in the 2007 Doctor Who TV episode Utopia. In these adventures, the devilish Time Lord comes across a society that challenges even his villainy and is compelled to save the day.
In Boundaries, the EastEnders and Ackley Bridge actress Jo Joyner re-enters the Who-niverse — having played 'Lynda with a Y' in 2005's Bad Wolf — as Fenice the forester. Jonny Green (It's a Sin, White Lines) also reprises his role as the Master's companion Cole Jarnish in this epic tale.
The War Master: Self-Defence is now available for pre-order as a collector's edition 4-disc CD box set (+ download for just £24.99) and as a digital download (for just £19.99), exclusively here.
In addition to the previously-announced return of David Tennant's Tenth Doctor, the superb cast includes Big Finish newcomers Phil Dunster (Ted Lasso, Humans), Robyn Addison (Doc Martin, Survivors), Adetomiwa Edun (Young Wallander, Cinderella), and comedian Josh Berry, plus Sara Powell (Ghosts, Doctor Who) and Ariyon Bakare (His Dark Materials, Doctor Who)
When the Master finds himself trapped in the Forest of Penitence, it kicks off a chain of events that will force him to revisit his past misdeeds.
From colony worlds ruled through fear to pastoral planets fleeing the Time War, the Master has spread his influence far and wide. His terrible reputation precedes him across the universe… and now he must be made to pay the price.
The Master's only hope of salvation lies with the Doctor. But this Doctor already knows his enemy's fate.
The four action-packed adventures in this box set are as follows:
The Forest of Penitence by Lou Morgan
Waking in an unusual forest with no memory of how he arrived there, the Master has little choice but to seek help from other survivors. But what is it they've all survived?
The Players by Una McCormack
On the planet Trabus, the Master discovers a society where nobody is innocent and the only true crime is to be a less successful villain than those around you.
Boundaries by Lizbeth Myles
As his companion Cole attempts to save a world, the Master discovers an extraterrestrial entity that threatens to spread across the globe.
The Last Line by Lizzie Hopley
At the mercy of an ancient and powerful race, the Master calls upon his oldest friend in his hour of need. The problem is he doesn't recognise this incarnation of the Doctor… while the Doctor knows this Master all too well.
Jo Joyner said: "This is a real treat for me. I've waited until the end of the day to say what a huge fan I am of Sir Derek Jacobi's work. I'm waiting to get out of my laundry cupboard that I've been in all day and tell my Mum.
"Sci-fi is just fun, isn't it? The people that follow, listen, and really follow sci-fi are part of a massive community who have always been really lovely to me since I was first 'Lynda with a Y'. You can feel their warmth. Whenever you go to a red-carpet event, there's always a little bunch of 'Whoeys'. It's a really special thing to be a part of and I'm really lucky to be here."
Producer and director Scott Handcock added: "Jo Joyner is a brilliant actor, especially on radio. She really loves the medium. So, when I had the opportunity to pair her with Sir Derek, how could I resist? We're really lucky, especially in a world where our cast never gets to meet, that they make remote interactions so effortless. They had a lovely day, facing off against one another from different cupboards across the country! It's a charming and dangerous dynamic.
"Cole Jarnish, played by the wonderful Jonny Green made such a huge impact in the first box set. I've worked with Jonny a lot and he's brilliant! He's a really down-to-earth, professional, and classy actor. It made sense to return to that character and have a little glimpse of what he might've been up to and enjoy that relationship between him and the Master again."
Jonny Green said: "I was really excited when I heard that Cole was coming back to the War Master and I'd get to work alongside Sir Derek Jacobi again. These scripts were some of the most fun I've had working on a Big Finish project. I can't wait for everyone to hear the work!"
The War Master: Self-Defence is now available to pre-order for just £24.99 (collector's edition CD box set + download) or £19.99 (download only) from the Big Finish website.
Big Finish listeners can save money by ordering The War Master: Self-Defence and the second 2022 War Master release (title TBC) together in a bundle for just £48 (collector's edition CD box set + download) or £39 (download only).
All the above prices include the special pre-order discount and are subject to change after general release.
Big Finish is currently operating a digital-first release schedule. The mail-out of collector's edition CDs may be delayed due to factors beyond our control, but all purchases of this release unlock a digital copy that can be immediately downloaded or played on the Big Finish app from the release date.