We love StoriesBig Finish produce great full-cast audio drama for CD and download, featuring many popular television fantasy series.
The Prisoner Volume 2 coming soon! Review roundup
5 August 2017
With the anticipated release of The Prisoner Volume 2 this month, we look at the reviews for this upcoming anniversary special.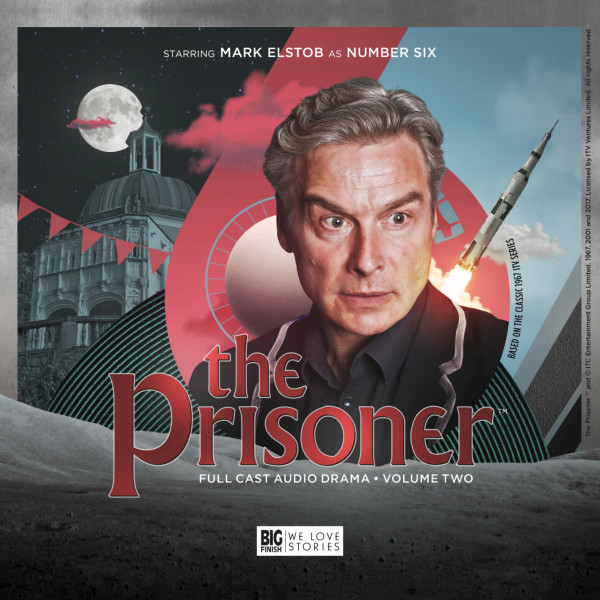 It's been 50 years since the cult ITV show The Prisoner hit our screens, and Big Finish have been delighted to continue the adventures of Number Six and The Village. We look at the advanced reviews of the greatly anticpated The Prisoner Volume 2.
'I'm not a number. I'm a free man!'
January 16th, 1967...
A secret agent resigns, then wakes up to find himself imprisoned in 'The Village' - a bizarre community with a cheery veneer, but an underbelly of mystery and threat. All occupants of The Village have numbers instead of names, with our secret agent forced to accept the mantle of Number Six.
The authorities running this Village are intent on discovering why Number Six resigned - but it's a secret he steadfastly refuses to divulge. As the drama unfolds, the authorities, in the guise of the sinister Number Two, try ever more ingenious and aggressive means to bend Number Six to their will. All the while, Number Six is intent on two aims: to escape and to find out 'Who is Number One?'.
"If you're a fan of the original series, and have an open mind, you will LOVE this!," says Rick Davy from The Unmutual website, The Prisoner news website, "the second set of songs from any artist is referred to as 'the difficult second album' and often not as well received as the debut. The opposite is true here.
"Nicholas Briggs seems to have really found his feet, as have the actors with lead Mark Elstob clearly now more comfortable in his role. Other regulars return, such as the delightfully bonkers village voice, provided by Helen Goldwyn, who also, as before, becomes supervisor, barmaid, and all sorts of other roles. In choosing a tightly-drilled and familiar ensemble, and becoming more comfortable with each episode he writes, Briggs has achieved what may have been thought of as impossible; he has created an entirely new village, heavily based on the original of course, but a 'Prisoner' series of his own, with new adventures for a new Number Six.
"I feel that with these episodes, Briggs' 'The Prisoner' has stepped out of the shadow of the original series and now proudly stands on its own two feet."
"The big question, of course, is does Volume Two live up to the remarkably high standards of Volume One?", asks Alan Hayes at SpyVibe, "For sure, it's a big ask. It's like going to the cinema to watch the sequel to your favourite movie; expectation is set so high that it's almost impossible not to have it fall short… Fortunately, the standards already established are absolutely maintained, and those bold choices are far bolder this time than I ever expected. Each adapted episode feels not so much a copy of its source, more an inspiration based upon it, and the original story included in Volume Two is unexpected, audacious and exhilarating.
"Following on from the exemplary sound design and music on the first volume, these new plays are abuzz with rich soundscapes and superb incidentals, and even a jazzed up version of the theme when you least expect it. Iain Meadows (sound design) and Jamie Robertson (music) have, if anything, excelled themselves on Volume Two. It all feels recognisably "Prisoner" but with a twist, which of course parallels Briggs's contributions as writer.
"It's well worth buying 'The Prisoner' Volume Two direct from Big Finish as, repeating the offer they made with Volume One, ordering Volume Two from their website will secure you incidental music downloads and script PDFs for each episode. Additionally, a bonus behind the scenes documentary is included on the fifth CD in the set, and this is also well worth a listen."
"I seriously hope that Nick will continue onwards with a Volume 3", wishes Debs McDougall on Six Of One, the Official Prisoner Appreciation Society, "because I for one most certainly would love to hear more and I'm sure you will too. So in summation I will say that Big Finish have come up trumps again! Volume Two of 'The Prisoner' is compulsive listening, with Nick Briggs having worked his magic once more. Mark Elstob is outstandingly good as Number Six, as are the rest of the cast in their roles. Intelligent and refreshingly new dialogue and story-lines complementing the old, it is a must have for any Prisoner fan's collection!"
Preorder Volume 2 of The Prisoner today to get incidental music downloads and PDFs of the script.
If you're new to The Prisoner, you can try an exclusive extract of the first episode, Departure and Arrival, or listen on Soundcloud >>
And we have The Prisoner Volume 1 as part of our Summer Holiday reccomendations! Get 20% off this exciting release, now available at £32 on CD or £28 on download, and hear why Big Finish friends and family reccomended it for your holidays here.