For The Love Of StoriesBig Finish produce fantastic full-cast audio dramas for CD and download.
The Seventh Doctor is Far From Home
27 June 2023
A mismatched TARDIS team take a trip to World War II London and then are separated light-years apart in a distant galaxy in the latest Big Finish Productions release, out now.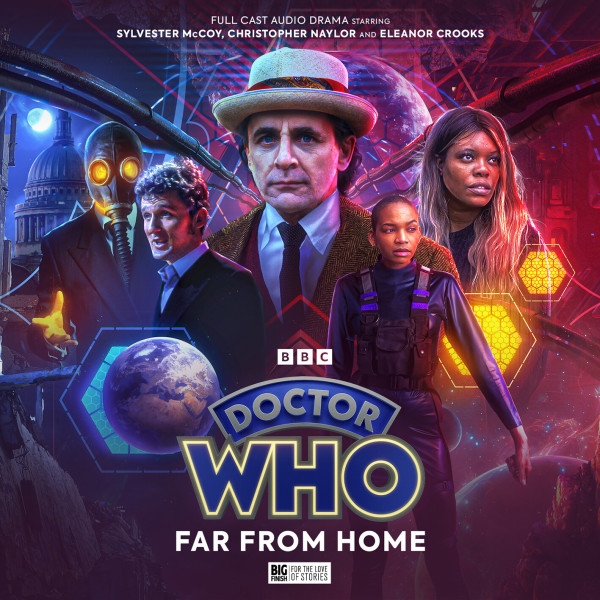 In 2022's box set, Sullivan and Cross – AWOL, the mercurial Seventh Doctor (Sylvester McCoy) picked up a couple of old friends, Harry Sullivan (Christopher Naylor) and Naomi Cross (Eleanor Crooks), having left them behind on 21st century Earth while in his fourth incarnation.
Now the out-of-time trio are back for two more full-cast audio adventures which might help them all find out a little more about their ultimate destiny...
Doctor Who – The Seventh Doctor Adventures: Far from Home is now available to own as a collector's edition 3-disc CD box set (+ download for just £19.99) or digital download (for just £16.99), exclusively here.
Harry and Naomi are back in the TARDIS, travelling with a very different Doctor to the one they first met – and he has promised to get them home...
The TARDIS takes them to Earth, but a dangerous era decades before their own. And when they visit the aftermath of a distant supernova, Harry is keener than ever to return to home comforts. But Naomi isn't so certain...
Operation Dusk by Alfie Shaw (three parts)
London during the Blitz, a city covered in darkness. It keeps everyone safe - until the darkness gets hungry. As the questions and victims mount up, the Doctor, Harry and Naomi are called in to investigate.
Why have the Vashta Nerada on Earth started eating people? And, perhaps more importantly, why didn't they eat the cat?
Writer Alfie Shaw said: "Being able to write a full-cast Seventh Doctor story has been on my Big Finish bingo card since I joined the company. Putting the Vashta Nerada in the Blitz really appealed as it made both light and dark dangerous for the TARDIS team. The trick then was to try and find something to go along with the Vashta Nerada, as even in their debut adventure several other elements are in play."
Naomi's Ark by Alison Winter (three parts)
Caught up in a galactic evacuation triggered by a supernova, Naomi is separated from her friends, in the company of some very unusual aliens.
The Doctor and Harry are stranded too – and any attempt to reach Naomi is at the expense of a precious, endangered civilisation – one that rivals the Time Lords for longevity and wisdom...
How far will the Doctor go for his friends?
Writer Alison Winter said: "The Seventh Doctor and Ace were my TARDIS team. Just two seasons but as a child that's a lot of stories, worlds, creatures and moments. To be able to write for my Doctor, but also to continue his story after I thought it had all just disappeared when I was 10 is magical. It's like getting your imaginary friend back. Frankly, it's wicked!"
This box set also includes the bonus download Frozen Worlds by Katharine Armitage, an audiobook narrated by Sophie Aldred.
On the peaceful world of Nauros, the children play a game. There are creatures in the skies – the bat-like Flitters – which feed on possibilities, and the game is to find out who scores the highest. But now, crops are failing and the planet is in danger of starving. And when a time traveller meets the Flitters, it seems things can only get worse...
Big Finish listeners can save money by purchasing Far from Home and November's forthcoming Seventh Doctor box set, The Last Day 1, together in a bundle for just £38 (collector's edition CD box set + download) or £33 (download only).
Alternatively, these titles can be bought as part of a 14-release Classic Doctors bundle for just £274 (collector's edition CD box set + download) or £237 (download only). A 12-release bundle is also available to purchase from just £198 (download only).
All the above prices include the special pre-order discount and are subject to change after general release.
Please note that Big Finish is currently operating a digital-first release schedule. The mailout of collector's edition CDs will be delayed, but all purchases of this release unlock a digital copy that can be immediately downloaded or played on the Big Finish app from the release date.