For The Love Of StoriesBig Finish produce fantastic full-cast audio dramas for CD and download.
The Short Trips 2023 Competition Winner revealed!
9 November 2023
The winner of the Paul Spragg Memorial Short Trips Opportunity 2023 is announced today, with a brand new writer making their debut at Big Finish Productions in December.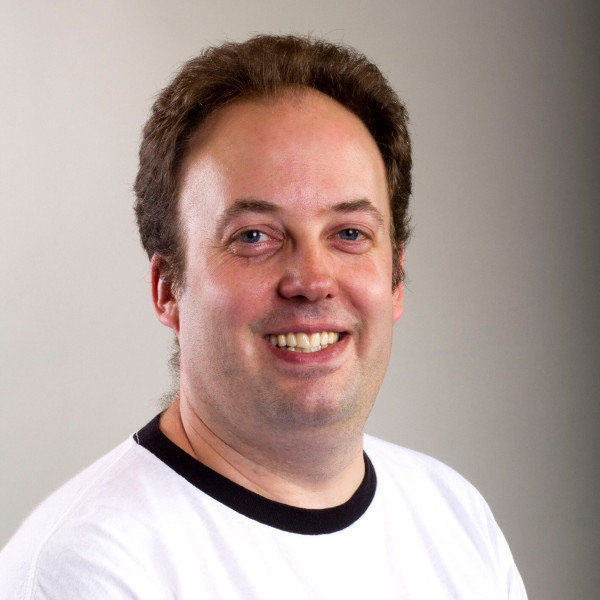 In 2014, Big Finish sadly lost the cheerful and much-loved Paul Spragg, who was at the heart of our production office, a dear friend to many, and a great supporter of fresh talent in Big Finish.
To honour his memory, our annual Doctor Who short story competition encourages new and aspiring writers. Each year, the winning entry is produced as a Doctor Who Short Trip audiobook and released as a free download from the Big Finish website on 29 December, Paul's birthday.
This year, the judges chose The Hoxteth Time Capsule, a Sixth Doctor adventure written by Paul Davis and read by Colin Baker.
"It's a delightful story," said Colin, "with several layers of cleverness and charm. I can see why it won. I love the idea of encouraging new writing. And I particularly love it's a short story competition. I've been a devourer of short stories all my life."
George White experienced exciting, sometimes dangerous escapades throughout his professional and personal life. Now he loves to arrange public talks to share memories and pictures from his adventures around the world. At an event in Hoxteth, he meets a colourful stranger for the very first time. But if George can't recall ever meeting this man before, how can it be that the Sixth Doctor clearly appears in so many of the photographs that George took more than a decade ago?
The 2023 judging panel were Big Finish's creative director Nicholas Briggs, former Doctor Who Brand Editorial Manager Gabby De Matteis, producer of the Doctor Who – Short Trips range Peter Anghelides, and writer and Big Finish assistant producer Dominic Martin.
Nicholas Briggs said: "This is always a very important time of year for us. We not only remember Paul Spragg's vital contribution to Big Finish, but also his legacy of encouraging new talent. This time, the winning story gives us a timely opportunity to feature the Sixth Doctor, and it's really delightful that my old friend Colin Baker was available to record this one."
Gabby De Matteis added: "We were all so taken with The Hoxteth Time Capsule – a bittersweet story about memory and adventure, with a good old-fashioned, alien-related mystery at its heart. Congratulations to Paul Davis for penning this wonderful tale! I'm so pleased to have been involved in adding it to Big Finish's Doctor Who canon."
"It was amazing to be involved in judging this year," said Dominic Martin. "Helping new blood be discovered is the privilege of this competition, and it's such a delight to see the concept reach its potential as a full audio piece by such magnificent talent! Paul Davis's piece feels like Doctor Who in its most natural form, with a wonderfully creative plot driven by the incredibly charismatic Sixth Doctor, who is written perfectly. Magnificent work by Paul!"
"I realised that our previous seven winners had, by happy coincidence, each featured different Doctors as their protagonist," said producer and script editor Peter Anghelides. "So this year, we asked people to propose stories for one of the other five. Paul's story captures the Sixth Doctor wonderfully, and it was an additional pleasure to have the authentic voice of the Sixth Doctor to perform our 2023 winner."
Doctor Who – Short Trips: The Hoxteth Time Capsule, read by Colin Baker, will be released as a download exclusively from the Big Finish website on 29 December 2023.
The previous winners of the Paul Spragg Memorial Short Trips Opportunity, all available to download for free, are: