We love StoriesBig Finish produce great full-cast audio drama for CD and download, featuring many popular television fantasy series.
The Sixth Doctor versus Ice Warriors
28 February 2020
En route to Bletchley Park, 1944, the Doctor inadvertently gatecrashes an alien Parliament, and interrupts a queen who is awaiting some very special, and very heavily armed, guests.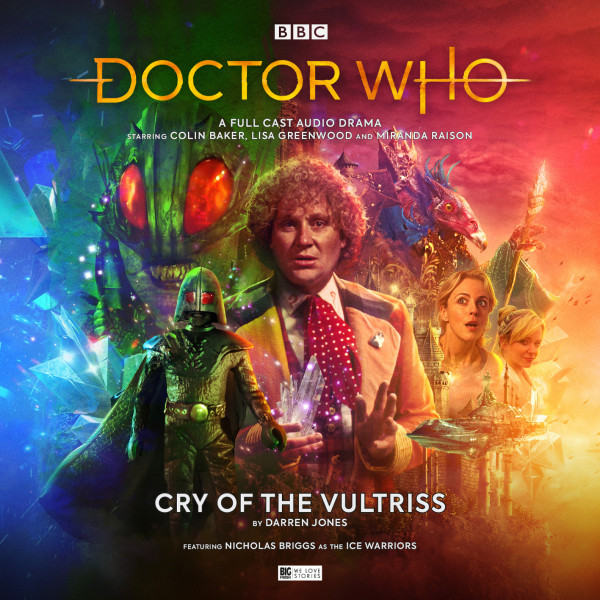 Colin Baker stars as the Doctor in his sixth incarnation, and this tense new story also features travelling companions, Mrs Constance Clarke (played by Miranda Raison) and Philippa 'Flip' Jackson (played by Lisa Greenwood), as previously announced.
All three will come face to face with a delegation of Ice Warriors, the villainous reptilian monsters from Mars. But are they enemies or allies of the Vultriss queen?
Doctor Who: Cry of the Vultriss is now available to pre-order and own as a collector's edition CD or digital download from just £12.99.
Violently ejected from the Space-Time Vortex, the TARDIS crash lands on the remote planet of Cygia-Rema, a mountainous world ruled by the bird-like Vultriss. Their newly crowned Queen Skye is expecting first contact with alien ambassadors – Ice Warriors – and the sudden arrival of the Doctor, Flip and Mrs Constance Clarke causes confusion.
However, Skye is no ordinary ruler, she is the Fabled One gifted with the deadly power of 'The Cry'. The queen who will enable the Vultriss to fly once again – at any cost. But as the Doctor investigates why the TARDIS crashed, he discovers that the Vultriss are hiding a deadly secret. An ancient legacy that, if left unchecked, will plunge half the galaxy into an eternal living end.
Producer John Ainsworth said: "We are very excited that Adele Lynch, who played the Ice Warrior queen in the Doctor Who television episode, Empress of Mars, has joined us to play the leader of the Ice Warriors in this story, and Nicholas Briggs provides the voices of the other Ice Warriors."
Writer Darren Jones added: "The story is part political drama, part disaster epic. My main highlight was writing for the Doctor, Constance and Flip. The characters have a lovely relationship which feels effortless. And that's a lot to do with having three actors who spark off one another. It was a pure joy. But there's also a lot of action going on in this story, and that was brilliant to do as well. It's a little harder to convey on audio as opposed to TV, but I like a challenge and I think it will come across well."
Doctor Who: Cry of the Vultriss is now available to pre-order and own as a collector's edition CD or digital download from just £12.99 at the Big Finish website. All CD purchases unlock a download option via the Big Finish app and the Big Finish website.
Big Finish listeners can save money by getting a subscription to Doctor Who: The Monthly Adventures. Subscribers get 30% off the price, free specially recorded Short Trips stories, PDFs of the scripts, and extended downloadable extras. Subscription lengths are available for either 6 or 12 releases and can be retrospective.