For The Love Of StoriesBig Finish produce fantastic full-cast audio dramas for CD and download.
The Time Lord with Nine Lives
23 March 2022
The Nine returns! While solo travelling, the Fourth Doctor faces the criminal Time Lord in a brand-new box set of full-cast audio dramas, due for release in June 2022 by Big Finish Productions.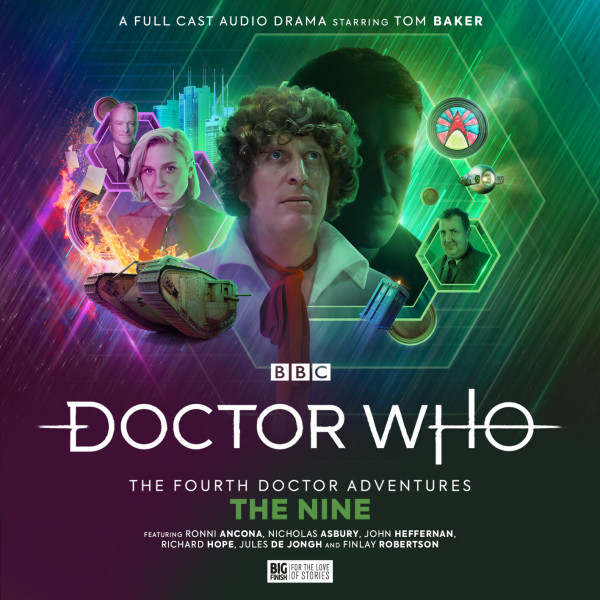 Tom Baker stars in three action-packed adventures in which the Doctor becomes the patient and then takes a tumultuous trip with a famed writer. But first, in the opening story, he encounters a familiar incarnation of a notorious renegade.
John Heffernan (Pursuit of Love, Luther) reprises his role as the Nine — a greedy kleptomaniac with multiple personas attempting a daring heist. For the first time since Big Finish's The Legacy of Time, Ronni Ancona (Last Tango in Halifax) also joins him as Thana, the last of the Abway species.
The Fourth Doctor Adventures: The Nine is now available to pre-order as a collector's edition CD box set (+ download for just £24.99) or digital download (for just 19.99), exclusively here.
The three thrilling tales in this box set are:
The Dreams of Avarice by Guy Adams
The Nine isn't your average robber. A ferociously intelligent and murderous kleptomaniac Time Lord with regenerative dissonance, he's a far more dangerous adversary than most security details are used to. So it's useful that the Doctor is on hand to stop him.
This time more than ever - as the Nine is about to pull off the greatest heist of his criminal career. Though could the consequences be far worse than the crime?
Shellshock by Simon Barnard and Paul Morris
When the TARDIS lands behind German lines at the height of the First World War the Doctor finds himself inadvertently transported to a hospital full of traumatised soldiers.
They're suffering from shellshock but also something else. Something causing vivid nightmares that chill the blood. Something not of this place.
Things are not quiet on the Western Front.
Peake Season by Lizbeth Myles
After an embarrassing encounter, the Doctor tries to make amends to Mervyn Peake by offering him a trip in the TARDIS. It's a trip the famous author should never have accepted.
Soon he and the Doctor find themselves trapped in a nameless city and working as newspaper cartoonists.
Where are they? More importantly, where is the TARDIS? And more importantly than that - can they escape with their lives?
Producer David Richardson said: "We love working with all of our Fourth Doctor companions at Big Finish, and we're so lucky to have them. However, this is the Fourth Doctor travelling solo, which, in itself, brings something to these stories. Who is the Doctor when he's alone?"
Tom Baker added: "The Dream of Avarice — what an irresistible title. That's exactly what [the episode] is about, what people or creatures in any civilisation can dream of in Doctor Who will do anything for goodies, power, and fun. It's all wonderful and we've got a great cast. It's been absolutely joyous.
"[John Heffernan's performance] is absolutely prestigious. Sometimes on one whole page was him doing four or five voices and making you feel like they were talking to each other. I was delighted. What a charming, sweet lad he is. He's got everything going for him."
The Fourth Doctor Adventures: The Nine is now available to pre-order for just £24.99 (CD box set + download) or £19.99 (download only) exclusively from the Big Finish website.
Big Finish listeners can save money by pre-ordering both Doctor Who – The Fourth Doctor Adventures: Series 11 volumes together in a bundle for £46 (on collector's edition CD + download) or £39 (download only).
Alternatively, The Nine can be purchased as part of the 14-release Classic Doctors bundle for £274 (collector's edition CD + download) or £237 (download only) here.
All the above prices include the special pre-order discount and are subject to change after general release.
Please note that Big Finish is currently operating a digital-first release schedule. The mail-out of collector's edition CDs may be delayed due to factors beyond our control, but all purchases of this release unlock a digital copy that can be immediately downloaded or played on the Big Finish app from the release date.