For The Love Of StoriesBig Finish produce fantastic full-cast audio dramas for CD and download.
30 September 2022
Cover artwork and story details are today revealed for the brand-new box set of full-cast audio adventures in the UNIT – Nemesis saga, due for release in November 2022 from Big Finish Productions.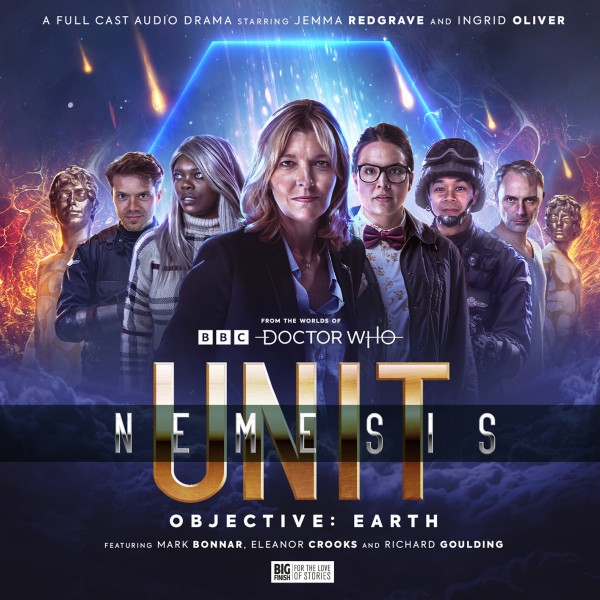 UNIT has fought the Vulpreen on their world and in small numbers on Earth. Now Kate, Osgood and their team stand ready for the greatest confrontation of all. A warning has been received, the Vulpreen are coming, in force. And their objective is the conquest of the planet.
The vicious Vulpreen aliens are out for blood, as they prepare to invade Earth with the notorious Axos (Richard Goulding) by their side. For the UNIT squad, the stakes are higher than ever before as they face their biggest battle yet...
UNIT – Nemesis: Objective: Earth is now available to pre-order for just £24.99 (collector's edition CD box set + download) or £19.99 (download only), exclusively here.
As previously announced, Jemma Redgrave stars as UNIT Chief Kate Stewart alongside Ingrid Oliver (as Osgood), James Joyce (as Captain Josh Carter), Eleanor Crooks (as Naomi Cross), Mark Bonnar (as the Eleven) and Chris Lew Kum Hoi (as Lieutenant Jimmy Tan).
Also returning to the series in these adventures are Tracy Wiles as Jacqui McGee and Alisdair Simpson as the sinister Vulpreen leader, Lord Varliss.
The Vulpreen Encounter By Andrew Smith
When a forty-mile-long asteroid drifts into the solar system,Osgood and new UNIT recruit Lt. Jimmy Tan are sent to investigate on board the newly-built UK spaceship Starseeker.
Kate Stewart visits a UNIT safe house in Norway where Jacqui McGee is recovering from the trauma of her experiences at the hands of the Vulpreen. She needs Jacqui's help against the Vulpreen threat, but can she be trusted?
Script Editor and writer of The Vulpreen Encounter, Andrew Smith said: "In this [box set], the Vulpreen, who up to now have been on their void world and shut away, bring the fight to Earth! The threat is very real. The Vulpreen are here and what do you know? The Axons are here as well...."
By Jacqui McGee by Lisa McMullin
As Kate Stewart and the UNIT team race to escape a Vulpreen assassination squad, Jacqui McGee uploads the most important report of her career.
Vulpreen Commander Krillen is coordinating a hostile operation across planet Earth. But are the Vulpreen planning an immediate attack, or do they have something more sinister in mind?
Lisa McMullin, writer of By Jacqui McGee, added: "I always love coming back to UNIT. This story is absolutely mad as a box of frogs. Hats off to Heather and Andy for curating this [box set] because it's brilliant, I'd love to listen to it without knowing what on earth is coming next. There's one surprise after another. I can't wait to hear how the entire story progresses from here and ultimately wraps up because it's just getting more and more bonkers!"
Axos Unleashed By Katharine Armitage
With the threat of a Vulpreen invasion imminent, a new menace presents itself in the shape of golden humanoids. A foe from UNIT's past.
Axos has escaped the Time trap it was placed in years before and has returned to feed off the Earth.
Axos Unleashed writer Katharine Armitage said: "Coming into UNIT was fantastic, who doesn't love Kate and Osgood? They're both so deliciously witty in their different ways and getting to write for them was so wonderful. In the episode, the infamous Axos has returned but is being used by the Vulpreen!"
Time of the Vulpreen By Roland Moore
UNIT coordinates a worldwide response to the arrival of Vulpreen Arches around the globe. Troops stand ready to face the invaders.
Kate Stewart and Osgood form an uneasy alliance with the Eleven to destroy the time fields that protect each Arch and which are being used as a devastating weapon by the Vulpreen. But when the invasion starts, the odds may be stacked too heavily against them...
Roland Moore, who wrote Time of the Vulpreen, added: "I'd never written for UNIT before but I've always wanted to, especially for Kate and Osgood as they're fantastic characters! It was really cool to give them words in a world of my own. I absolutely loved the challenge of writing the finale for this box set. It was immense fun. I can't wait to hear the finished result!"
Big Finish listeners can save money by pre-ordering a bundle of all four volumes in the UNIT – Nemesis series for just £88 (collector's edition CD box set + download) or £79 (download only).