For The Love Of StoriesBig Finish produce fantastic full-cast audio dramas for CD and download.
4 August 2021
Today is the day that Sir Derek Jacobi returns to war, as The War Master: Killing Time is released from Big Finish.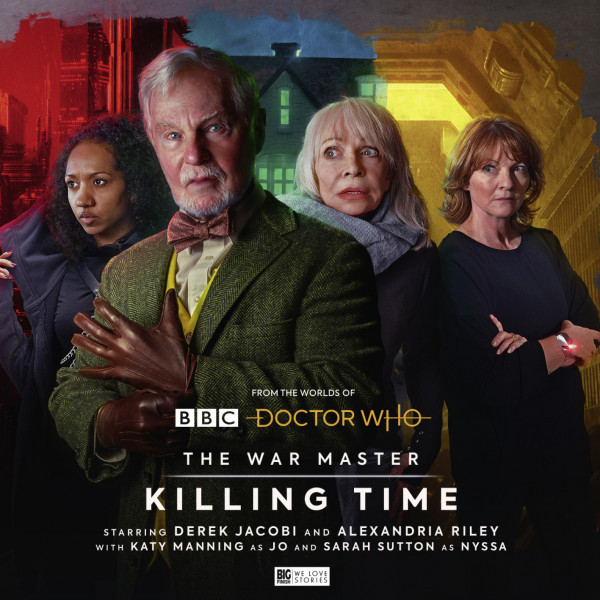 These full cast audio adventures feature the War Master (Sir Derek Jacobi) in his greatest battle yet, as he confronts his past in Doctor Who companions Jo Jones (Katy Manning) and Nyssa (Sarah Sutton), and his present in rival Calantha (Alexandria Riley).
The War Master: Killing Time is now available as a collector's edition four-disc box set (on CD at £24.99) and as a digital download (at £19.99), HERE.
For centuries, the Stagnant Protocol has been forgotten by the universe: an empire populated by a race that can never advance… a race the Master seeks to seize control of.
Unfortunately for him, he has a rival – Calantha – and she understands how to manipulate the system better than he could ever hope. His only chance of defeating her lies in the hands of some old acquaintances, whether they realise it or not.
The captivating cast are completed by Ian Abeysekera (Class, Switch), Timothy Blore (The Lone Centurion, Dracula's Guests), Doña Croll (Torchwood, Family Affairs), Laura Doddington (Graceless, Gallifrey), Sarah Douglas (Cicero, Superman 2), Raj Ghatak (The Box of Delights, Ghosts), Glen McCready (Missy, Space: 1999), Francois Pandolfo (Gallifrey, Torchwood), Prasanna Puwanarajah (Doctor Foster, Patrick Melrose), Harley Viveash (The Robots, Cicero), Mali Ann Rees (Torchwood) and Fanos Xenofós (Blake's 7, Dracula's Guests).
Director and producer Scott Handcock said: "The Master meets his match in this latest box set… though not in the way you may be expecting. Not only does he come up against the deliciously manipulative Calantha, played by the incredible Alexandria Riley, but he also reunites with a couple of familiar faces from the Master's long past.
"It was a joy to pit Jo and Nyssa against an old nemesis and an even greater thrill to have Katy Manning and Sarah Sutton in studio alongside the great Derek Jacobi. The scripts are superb, you really feel their history, and it really celebrates the Master's wickedness in this anniversary year.
"And this won't be the last of the War Master – we've been recording through lockdown – with plenty more adventures on the way!"
The War Master: Killing Time is now available as a collector's edition four-disc box set (on CD at £24.99) and as a digital download (at £19.99), HERE.
Big Finish listeners can save money by ordering a bundle of both The War Master Series 5-6 for £48 as collector's edition CD box sets or £39 as digital downloads.
Please note that Big Finish is currently operating a digital-first release schedule. The mail-out of collector's edition CDs may be delayed due to factors beyond our control, but all purchases of this release unlock a digital copy that can be immediately downloaded or played on the Big Finish app from the release date.