For The Love Of StoriesBig Finish produce fantastic full-cast audio dramas for CD and download.
The Warrior's Comrades-in-Arms
15 March 2023
Story details are today revealed for three forthcoming full-cast audio adventures in The War Doctor Begins series from Big Finish Productions.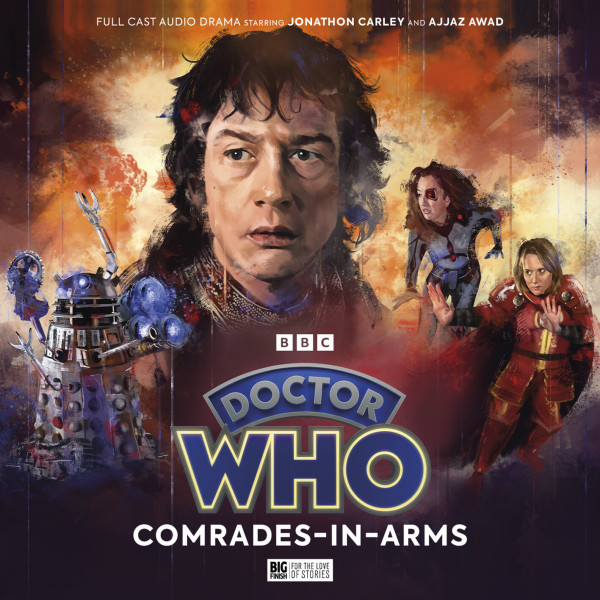 In a box set due for release in May 2023, the War Doctor (the role originated on Doctor Who by the late Sir John Hurt and now voiced by Jonathon Carley) encounters a maternal medical robot, an unusual Time Lord memory bank and an unhinged Berserker Dalek!
The superb ensemble cast joining Jonathon includes Beth Chalmers (as Commander Veklin), Ajjaz Awad (as the Berserker Class cyborg, Case), and Nicholas Briggs (as the Daleks).
Doctor Who – The War Doctor Begins: Comrades-in-Arms is now available to pre-order as a collector's edition CD box set (+ download for just £19.99) or digital download only (for just £16.99), exclusively here.
The Doctor is no more. A warrior has joined the Time War between the Daleks and Gallifrey. But how far will he go? What lines will he cross? How much of himself will he sacrifice? And can a chance of redemption lie in changing the fate of a fellow soldier?
A Mother's Love by Noga Flaishon
Responding to a distress call, the War Doctor arrives on Haven: a state-of-the-art Time Lord field hospital, operated by the highly advanced 'Medbay Operation Mainframe' – or M.O.M.
But the station has been compromised. M.O.M.'s secrets run deep, time is running out, and the War Doctor must renew some old alliances if everyone is to get out alive...
Berserker by Timothy X Atack
Sunspire was devastated by the Daleks centuries ago. The last of its people are returning to seek out their heritage in an underground bunker, and save their species from extinction. Case and the War Doctor join the mission, posing as a Dalek-Killer and her squire.
But the bunker has an occupant: a single Berserker Dalek, driven insane by four hundred years of solitude...
Memnos by Phil Mulryne
Memnos: a secret Time Lord project, recording everything lost to the Time War. A place where the War Doctor can admit his part in the conflict and seek solace – and perhaps where he can find salvation for Case.
But the Dalek Time Strategist will not let slip her potential. She could be the Daleks' greatest weapon. The battle for Case's soul will be won or lost in Memnos.
Joining the series as director for this volume, Barnaby Kay said: "This series has all been set up as directed by Louise Jameson – who's just completely fab. It's one of those series that I've had my eye on and I really wanted to get in on it. When the chance arose to direct, because Lou was busy elsewhere, I jumped at it.
"I've been delighted to be a part of this world and work with Jonathon Carley – whose portrayal of John Hurt's War Doctor is so accurate, detailed and brilliant. Jonathon and Ajjaz Awad are both so good and they have real chemistry. It's just great to work on exciting stories and they're wonderful to listen to."
Big Finish listeners can save money by pre-ordering both of next year's titles together in a bundle for just £38 (collector's edition CD box set + download) or £33 (download only).
All of the above prices include the special pre-order discount and are subject to change after general release.
Big Finish is currently operating a digital-first release schedule. The mail-out of collector's edition CDs may be delayed due to factors beyond our control, but all purchases of this release unlock a digital copy that can be immediately downloaded or played on the Big Finish app from the release date.