For The Love Of StoriesBig Finish produce fantastic full-cast audio dramas for CD and download.
25 October 2015
Catch up on a week of news and releases with our weekly round-up of all things Big Finish!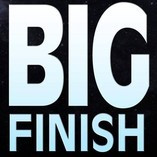 This week we've celebrated the return of some of our favourite heroes, as two brilliant Doctor Who spin-offs have been released!
Hurtling from the heavens in a crashing spaceship comes the one and only Ianto Jones (Gareth David-Lloyd)! Torchwood: Fall To Earth by James Goss is the eagerly awaited second instalment of our brand new audio series. Co-starring Lisa Zahra, this new adventure sheds further light on the dangerous events uncovered by Captain Jack Harkness (John Barrowman) in opening story Torchwood: The Conspiracy. You can buy this single-disc release today from the Big Finish website – check out the trailer below:
Hundreds of years earlier, another group of old friends are keeping the world safe from alien menaces. Henry Gordon Jago (Christopher Benjamin) and Professor George Litefoot (Trevor Baxter) have returned in Jago & Litefoot: Series 10. Joined by the brilliant Ellie Higson (Lisa Bowerman) and the dashing Inspector Quick (Conrad Asquith), the Infernal Investigators find themselves up against a host of terrors from the past, present and future – with Number One fan Carruthers Summerton (Toby Hadoke) along for the adventure! You can buy and download this five-disc set today – and listen to an exclusive trailer below!
But that's not to say the Doctor hasn't been busy! Our latest Short Trip release Doctor Who: The Way of the Empty Hand is also available now. Written by Julian Richards and read by Frazer Hines, this gripping short story brings the Second Doctor, Jamie and Zoe to the war world of Combatia, stranding them in a gladiatorial battle to the death! You can download this story today for just £2.99, with a subscription to an entire year's worth of stories also available.
If you fancy a break from the Doctor's voyages, why not check out our latest set of special offers, featuring great savings on Big Finish Classics, our Drama Showcase releases and much much more! From original plays to literary adaptations, these specially selected titles offer something for everyone – and include the recently-rereleased The Adventures of Luther Arkwright starring David Tennant. Take advantage of these great offers now, but hurry – offers must end Noon Monday 26th of October (UK Time).
And finally, in celebration of the latest new TV episode The Woman Who Lived, you can also pick up the acclaimed Doctor Who Main Range release Doctor Who: The Doomwood Curse for just £5 on both CD and Download.
That's all for this week – but join us soon for more brilliant releases and reveals!