We love StoriesBig Finish produce great full-cast audio drama for CD and download, featuring many popular television fantasy series.
13 December 2015
Catch up on a week of news and release from the Worlds of Big Finish - include a new trailer revealed today!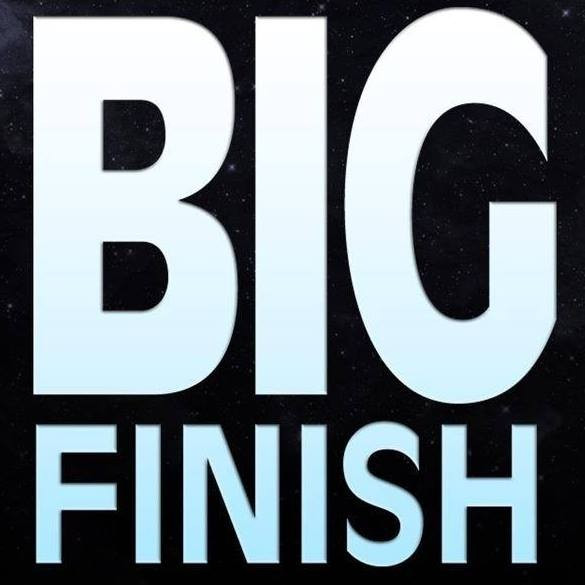 The festive mood is in full swing at Big Finish, with heaps of presents to unwrap and news of things to look forward to in the New Year! And we're starting this round-up with another gift – the trailer for Doctor Who: Aquitaine, our 209th Main Range release!
This exciting new story by Simon Barnard and Paul Morris stars Peter Davison, Sarah Sutton and Janet Fielding and finds the TARDIS crew trapped on an abandoned research vessel – with only robots and ghosts for company! Visit the product page for more details and to pre-order your copy now!
This isn't the only new trailer to arrive this week, as we've also been given a glimpse at the gorgeous limited edition packaging for our eagerly awaited release The Prisoner: Volume 1.
Coming in January 2016, The Prisoner: Volume 1 reimagines the highly influential 1967-68 ITV series as a bold new audio production. Written and directed by Big Finish Executive Producer Nicholas Briggs, the series stars Mark Elstob as Number Six, a former spy imprisoned in the mysterious 'Village', in a role made famous by original series star Patrick McGoohan.
The series is presented in a deluxe five-disc set, limited to just 3,000 numbered copies. The set, which includes an in-depth Behind-the-Scenes audio documentary 'By Hook Or By Crook', is packaged in a lavish colour booklet containing professionally photographed images of the cast, articles by Nicholas Briggs and specially commissioned artwork. Pre-order your copy today while stocks last!
We may have to wait until the new year for these upcoming delights, but we don't have to wait for some early Christmas presents – with four new titles released this week! We began with the long-awaited return of Torchwood One Director Yvonne Hartman (Tracy-Ann Oberman) in Torchwood: One Rule.
It's been three weeks since the Mayor of Cardiff was killed by a shop dummy and the fight is on to see who will replace him.
Yvonne Hartman is visiting the city to retrieve an invaluable alien device. She's in charge of Torchwood One, she's saving the British Empire and she doesn't care about local politics. But she is going to find herself caught up in that fight. There's a bloodthirsty alien stalking the streets and there's a special offer on at the all-you-can-eat Chinese buffet.
It's the 26th of March 2005 and it's the day that everything changes.
This brand new story has been written by Joseph Lidster, and stars Tracy-Ann Oberman, Gareth Armstong, Rebecca Lacey, Dan Starkey and Catrin Stewart. Order your copy today, or subscribe to the whole first series of Torchwood audios here.
Next we have the latest in our range of Doctor Who Novel Adaptations with two releases covering stories from the Virgin New Adventures, starring Sylvester McCoy, Sophie Aldred and Lisa Bowerman.
Justin Richard's Doctor Who: Theatre of War sees the TARDIS land on the planet Menaxus, where a Shakespearian tragedy is about to play out, with the help of the mysterious Irving Braxiatel (Miles Richardson).
Our second release is Andy Lane's Doctor Who: All-Consuming Fire, which has been adapted by Guy Adams and stars Nicholas Briggs and Richard Earl as Sherlock Holmes and Dr John Watson – reprising their roles from Big Finish's range of Sherlock Holmes releases.
Both of these new tile are available individually or as part of a special bundle, which also contains three further adaptations due to be released in 2016.
Big Finish have also been proud to have released B7 Media's award-winning adaptation of Ray Bradbury's The Martian Chronicles, scripted by Richard Kurti and Bev Doyle.
When the first expedition to Mars mysteriously disappears, Earth sends a second to find out what happened. But the real mission is classified. And only Captain Wilder knows the truth...
Spender, an anthropologist on Wilder's crew, attempts to prevent the colonisation that she believes will eradicate the last of an ancient people living on Mars. But to what lengths will she go?
As the honourable but duty-bound Captain Wilder tracks the now rogue Spender into the Martian mountains, the future of this ancient planet is at stake. Meanwhile, Earth itself teeters on the brink of its own global catastrophe as the very survival of humanity hangs in the balance.
Starring Derek Jacobi, Hayley Atwell, Anna Madeley, Mark Lewis Jones, John Altman, Zoë Tapper, Jonathan Rhodes, Dean Harris, Ryan Sewell, Rachael Naylor, Jacob James, Robert Lock, Melissa Aston-Munslow, Owen Sewell and the children of Polehampton Junior School, The Martian Chronicles is available to buy and download today from the Big Finish website.
Even with four new release to send out this week, we still managed to find the time to unveil a stocking full of exciting new info on some very special upcoming titles. In April 2016, the Terrahawks will return for a second series of audio adventures, with the team facing off against evil game-show android Nickel-plate Starsons – performed by national treasure Nicholas Parsons!
The beloved presenter of gameshows Just a Minute and Sale of the Century, Nicholas is well known to Anderson fans for his role as Sheriff Tex Tucker in pre-Supermarionation hit Four Feather Falls. After a 56 year absence, he's returned to the recording studio to voice Nickel-plate Starsons - host of intergalactic gameshow The Sale of the Galaxy. But Starsons isn't just a gameshow host... he has history with Queen of the planet Guk - Zelda (played by Denise Bryer - Nicholas' ex-wife).
Terrahawks: Series 2 will be released in April 2016, and contains eight new adventures for Dr Tiger Ninestein (Jeremy Hitchins) and his team!
Nickel-plate Starsons isn't the only alien with his sights set on Earth. Captain Kybo (Nicholas Briggs) of the Nineteenth Judoon Interplanetary Force will be paying a visit to Victorian England in Doctor Who: Judoon in Chains – part of our Doctor Who: Classic Doctors, New Monster Volume 1 box-set.
This new story by Simon Barnard and Paul Morris sees Colin Baker's Sixth Doctor encounter the Captain, who's imprisoned in a travelling freak-show. But Captain Kybo is a Judoon with a difference. The adventure also stars Trevor Cooper, Kiruna Stamell, Tony Millan and Nicholas Pegg and joins the set of four stories which will also see appearances from the Weeping Angels, Sycorax and Sontarans.
Doctor Who: Classic Doctors, New Monsters Volume 1 will be released in July 2016. You can pre-order your copy today for just £20, or pick up the set in our New Series Bundle along with January releases The Diary of River Song: Series 1 and Doctor Who: The Churchill Years Volume 1. With general release not until the end of September 2016, pre-ordering gives you the perfect chance to ensure you're one of the first to listen. And remember, when you choose to buy this title on CD directly from Big Finish, you will also unlock instant access to a digital copy for download on day of release.
Finally, we've gained another glimpse at the legendary conflict that is the Time War, with the reveal of Doctor Who – The War Doctor 2: Infernal Devices. This February 2016 release presents three new battles for the War Doctor (John Hurt), written by John Dorney, Phil Mulryne and Matt Fitton.
The set features a stellar guest cast including David Warner, Jamie Newall, Zoë Tapper, Robert Hands, Oliver Dimsdale, Laura Harding, Barnaby Kay, Jaye Griffiths, Tim Bentinck and Tracy Wiles – with Jacqueline Pearce's Cardinal Ollistra on hand to dispatch the War Doctor to his next deadly engagement.
Doctor Who - The War Doctor 2: Infernal Devices can be pre-ordered today for just £20 on CD or Download. You can also order this release as part of the Time War Saga bundle. The bundle contains all four box sets from the War Doctor series, along with the five-disc prequel Doctor Who - The Eighth Doctor: The Time War starring Paul McGann.
But you won't need to wait until February for the War Doctor's triumphant return – as Doctor Who – The War Doctor 1: Only The Monstrous is released tomorrow, exclusive to the Big Finish website!
Taking place before the apocalyptic events portrayed in the Doctor Who TV special The Day of the Doctor, this new four-disc box set by Big Finish executive producer Nicholas Briggs finds the War Doctor recruited for the war effort by the scheming Cardinal Ollistra (Jacqueline Pearce). A desperate mission will send the Time Lord deep behind enemy lines – where the Daleks await! There's still time to pre-order this four-disc box-set, and to take advantage of our free UK delivery.
Order your copy today – and download the stories as soon as they're released tomorrow morning. Enjoy one last sneak peak with our trailer below:
And if you need something to help pass the short wait until the set's release, why not enjoy the final part of Toby Hadoke's interview with Time War architect Russell T Davies in the 150th instalment of Toby Hadoke's Who's Round. This milestone release is the last of Toby's interviews conducted in 2013, on his mission to talk to someone involved in every single Doctor Who story.
These interviews are shared as podcasts from the Big Finish website, which you can download or stream here, or subscribe to on iTunes. All episodes are free, so if you've enjoyed Toby's chat, all he asks is that you give a donation to a charity nominated by the interview subject. All of Toby's podcasts so far are listed here, along with links to nominated charities. Please take the time to donate if you have enjoyed an interview. Toby will return with more podcasts in the new year.
That's all for this week – but there's plenty to look forward to coming up. As well as the release of Doctor Who – The War Doctor 1: Only The Monstrous, we'll be continuing our flurry of December releases – and well as bringing you some welcome news from one of Big Finish longest running ranges!
Plus – this Thursday 17th December, our legion of Writers, Producers and Directors will be descending on Big Finish Towers for the recording of the annual Big Finish Christmas Special Podcast. As well as the usual mirth and merriment, they'll also be a chance for the team to answer your questions – so if you have any burning queries, email us at podcast@bigfinish.com and you could have your letter read out by a Big Finish star!