We love StoriesBig Finish produce great full-cast audio drama for CD and download, featuring many popular television fantasy series.
24 April 2016
Catch up on a week of news and releases from the worlds of Big Finish!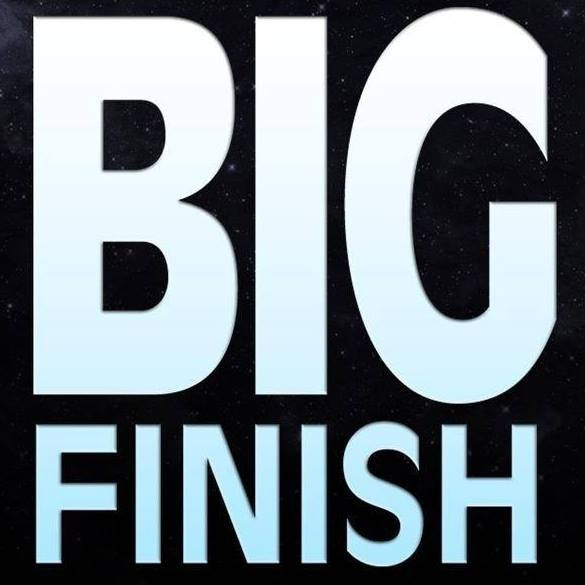 This week has seen the return of some much loved heroes to Big Finish, with Avon and his team in Blake's 7: The Liberator Chronicles Volume 12 and Sheridan Smith as Lucie Miller in Doctor Who: The Curse of the Fugue!
Blasting into action in three new adventures, the crew of the Liberator have once again found themselves up against the might of the Armageddon Storm – a monstrous super-weapon first introduced in Blake's 7: The Liberator Chronicles Volume 3. Now they must band together to stop the enemy in our final box-set of this long running series. Check out a preview below!
Starring Paul Darrow, Jan Chappell, Michael Keating, Steven Pacey and David Warner, Blake's 7: The Liberator Chronicles Volume 12 is available to buy and download today. The entire Liberator Chronicles series is still available, with the first six box-sets now reduced to just £15 each on both CD and to download.
Next, star of stage and screen Sheridan Smith has made her return to the Worlds of Doctor Who. Doctor Who: The Curse of the Fugue is a new story by Alice Cavander, which finds Lucie and the Eighth Doctor stranded in a power-cut inflicted Seventies Britain. Check out a preview below:
You can download this new story for only £2.99, exclusively from the Big Finish website. Subscriptions to both the 2016 and 2017 series of our Monthly Short Trips are available for £30 each, giving you access to all 12 stories as soon as they're available. You can even pick up a bundle of our twelve titles from 2015.
Future stories in this year's range include performances from Peter Purves in May's Doctor Who: This Sporting Life, Anneke Wills in June's Doctor Who: Lost and Found and Rufus Hound in July's Doctor Who: The Blame Game – with Rufus reprising his role as the Meddling Monk. More details can be found here.
Elsewhere in the worlds of Big Finish, more momentous returns are promised when Angelique Bouchard Collins (Lara Parker) makes her way home to Collinwood in Dark Shadows: Blood & Fire; our 50th Anniversary Special commemorating the iconic horror-soap series. Due for release in June, we've been pleased this week to unveil a new teaser-trailer for this two-hour special, giving us a hint of what terrors await the Collins family for their half-centenary.
The first block of recording is now complete on the anniversary special. Joining Lara will be fellow original series stars Kathryn Leigh Scott and Mitchell Ryan as Patience and Caleb Collins. Andrew Collins and Daisy Tormé star as their children, Joshua and Abigail. James Storm plays pirate Abraham Harkaway alongside Jerry Lacy as architect Malachi Sands. Also appearing in the adventure are John Karlen as Alfred Loomis and Lisa Richards and Christopher Pennock as Euphemia and Uriah Spencer Stockbridge. Further casting will be announced over the next few weeks, so stay tuned!
But the fun doesn't stop there – as next week is packed with more Big Finish goodness, including the triumphant return of the Terrahawks on Monday April 25th in Terrahawks: Series 2, the next perilous quest for the Pathfinders on Wednesday April 27th with Pathfinder Legends – Mummy's Mask: The Slave Trenches of Hakotep and a Victorian showdown between Jago & Litefoot (Christopher Benjamin and Trevor Baxter) and the Master (Geoffrey Beevers) on Thursday April 28th in Jago & Litefoot: Series 11!
And if you can't wait until Thursday for the Master's latest scheme, why not explore our special offers on some Masterful Performances – featuring titles starring Geoffrey Beevers, Alex Macqueen, Derek Jacobi and Michelle Gomez, available from just £2.99. Click here for more details!
One final technical update: the Big Finish download server will be offline for maintainence for approximately one hour at 11pm UK time on Monday April 25th. Please note that downloads from your Big Finish account will not be available at this time.
That's all for now – or is it? Because after yesterday's fantastic announcement that Pearl Mackie will be joining the Twelfth Doctor in Series 10 of the television series, it may just be the weekend to expect a few more Doctor Who themed surprises... stay tuned!