We love StoriesBig Finish produce great full-cast audio drama for CD and download, featuring many popular television fantasy series.
7 May 2016
Catch up on all of this week's news and releases from the worlds of Big Finish!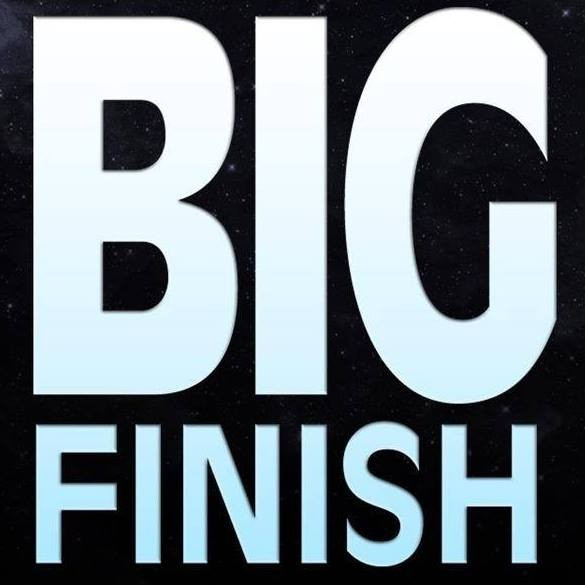 Let's party like it's 2025!
This week we revealed the amazing news that Big Finish's licence to produce Doctor Who and Torchwood audio dramas has been extended until June 20th 2025 by BBC Worldwide. We're incredibly grateful to be given this exciting decade-long opportunity to produce brand new stories from these two beloved series. We'd like to thank all of our listeners for supporting us in our first 17 years of Doctor Who storytelling – the best is yet to come!
While the announcement was taking place, the Torchwood production team were busy recording the next appearance of Eve Myles as Gwen Cooper! Torchwood: Made You Look has been written by Guy Adams and is due for release in August 2016. Gwen's return will be the final story of Torchwood: Series 2, which continued this week with the release of Torchwood: Ghost Mission.
Written by series producer James Goss, this new story sees Sergeant Andy (Tom Price) finally invited to join the Torchwood team by agent Norton Folgate (Samuel Barnett); who just so happens to be a ghost! The title has been released to rave reviews, with Cultbox saying 'the dialogue will make the listener smile, chuckle and laugh outright.' Order your copy today as part of a money-saving Torchwood: Series 2 subscription and look out for more Torchwood news coming soon!
Elsewhere in the Doctor Who universe, we've lifted the lid on our next Main Range anthology release. Doctor Who: The Memory Bank and Other Stories stars Peter Davison and Mark Strickson as the Fifth Doctor and Turlough: their first Big Finish appearance as a pair since 2005's Doctor Who: Singularity.
Containing four new stories by Chris Chapman, Paul Magrs, Eddie Robson and Ian Potter, the new release is the first to be directed by long term Big Finish associate Helen Goldwyn. You can pre-order your copy today as part of a Doctor Who Main Range subscription; with complimentary digital copies included with all CD orders, available as soon as the title is released.
Next we have an update for the eagerly awaited Dark Shadows: Blood and Fire, our 50th anniversary celebration of the classic horror soap-opera. Joining an already stellar cast will be Joanna Going (House of Cards, Columbo, CSI: Crime Scene Investigation) as Laura Murdoch Stockbridge and Matthew Waterhouse (Doctor Who's Adric) as Reverend Samuel Cunningham.
Also appearing will be Ursula Burton as Peggy Griffin, Alexandra Donnachie as Sarah Filmore, Scott Haran as Lamech Gifford, Walles Hamonde as Roderick Haskell, Daniel Collard as Robert Hanley and Natalie Britton as the mysterious Storm Elemental. You can pre-order this celebratory special today alongside Dark Shadows: Echoes of the Past,a new collection of short story readings.
Sadly, not all of news this week can be good, as Graceless: Series 4 has unfortunately moved back in our schedules to the new release date of January 2017. Sorry to everyone who is looking forward to the new box-set; but Abby and Zara will be back better than ever in the new year!
To round off our week of news, we've also released a new trailer for July's Doctor Who: A Life of Crime, starring Sylvester McCoy, Bonnie Langford and Sophie Aldred.
And, uploaded to our website just this morning, the trailer for the second story in this new trilogy, Doctor Who: Fiesta of the Damned!
That's all for this week, but get ready for a bumper week of releases, including Doctor Who: Vampire of the Mind, Doctor Who: Gallery of Ghouls and Cyberman: The Complete Series 1 & 2.
And don't forget that with the start of a new month, a new Big Finish Listeners title is available to download for just £2.99! May's choice sees David Tennant face off against the Daleks, but not as the hero you were expecting! Dalek Empire 3: The Exterminators by Nicholas Briggs can be downloaded today at a bargain price.
And in case you need reminding – David Tennant is also back fighting evil as the Doctor in Doctor Who: The Tenth Doctor Adventures, alongside Catherine Tate as Donna Noble. The three new stories are available individually or as part of a Limited Edition set. Pre-order your copy before the release next Monday May 16th and check out the video trailer below: