We love StoriesBig Finish produce great full-cast audio drama for CD and download, featuring many popular television fantasy series.
Torchwood monthly range returns
25 November 2017
Starting in March 2018, the Torchwood monthly range kicks off with the return of Captain John Hart in The Death of Captain Jack - and it gets bigger and better from there!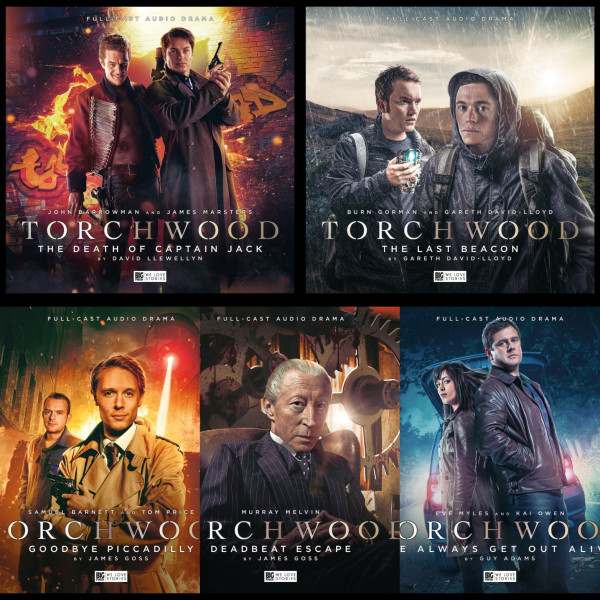 Five new tales from the world of Torchwood are coming soon including The Last Beacon by Gareth David-Lloyd, in which Owen Harper (Burn Gorman) and Ianto Jones (Gareth David-Lloyd) try and save the world from an alien battlefleet. While camping.
Gareth told us more about writing (in addition to acting) for the Torchwood monthly range: "I've had great fun doing it. Especially being able to put my own take on the actual words Ianto says, rather than how he says them. I've loved the material, and the subject matter of those scripts I enjoy as well because they're all topics set close to my heart."
Starting in March, the Torchwood monthly range will include:
19. The Death of Captain Jack by David Llewellyn, out in March 2018
20. The Last Beacon by Gareth David-Lloyd, out in April 2018
21. We Always Get Out Alive by Guy Adams, out in May 2018
22. Goodbye Piccadilly by James Goss, out in June 2018
23. TBA
24. Deadbeat Escape by James Goss, out in August 2018
We were overjoyed to announce the return of James Masters as Captain John Hart back in August this year, and the storyline for The Death of Captain Jack promises to be a bombastic event.
"If you've ever wondered what Torchwood would be like with Captain John at the helm, wonder no more," says producer James Goss. "Nothing from the world of Torchwood emerges unspoiled – and that includes Queen Victoria, and Ianto's dress sense!"
Captain Jack is finally dying, and it's time for his oldest friend to visit his deathbed. King John has come to tell him a story. The story of the life he should have had.
It's the story of Alexander the Great, sinking ships, falling empires, robot dinosaurs, and alien invasions. It's a story of love, royal weddings, murder, mass murder, genocide, and very tight trousers.
It's the story of the life of Captain John and it's the story of Torchwood. Be careful what you wish for.
Deadbeat Escape sees Murray Melvin return as Bilis Manger in a tale that'll terrify you every second. The Last Beacon by Gareth David-Lloyd brings Ianto Jones and Dr Owen Harper together for a mission in the Welsh countryside. Andy Davison and Norton Folgate are reunited in Goodbye Piccadilly, and Gwen and Rhys are tested more than ever before in We Always Get Out Alive.†¨
Get each of these releases is available at £9.99 each on CD or £7.99 on download. Or save money in a bundle. Get all five of these releases in a bundle at £50 on CD or £45 on download.
In other Torchwood news there is the grand finale of Torchwood Series Five: Aliens Among Us, coming out in February 2018.
Captain Jack and Gwen Cooper have restarted Torchwood. But it's in a very different Cardiff. Something terrible's happened to the city. With every day getting darker, will a new arrival prove to be the ally Torchwood needs?
More details on this finale, the mysterious new arrival, and the trailer for part three coming soon.
And in July 2018, we return to Canary Wharf and Torchwood One in Torchwood One: Machines. With guest star Jane Asher and a script by Gareth David-Lloyd, Torchwood has never been in more peril with the return of arch-villain WOTAN.