For The Love Of StoriesBig Finish produce fantastic full-cast audio dramas for CD and download.
25 February 2019
The trailer for the next of our Big Finish Originals arrives today! Alex Kingston leads an all-star cast in Transference, alongside Warren Brown, Wendy Craig, Ingrid Oliver and Robert Whitelock, in this new psychological thriller.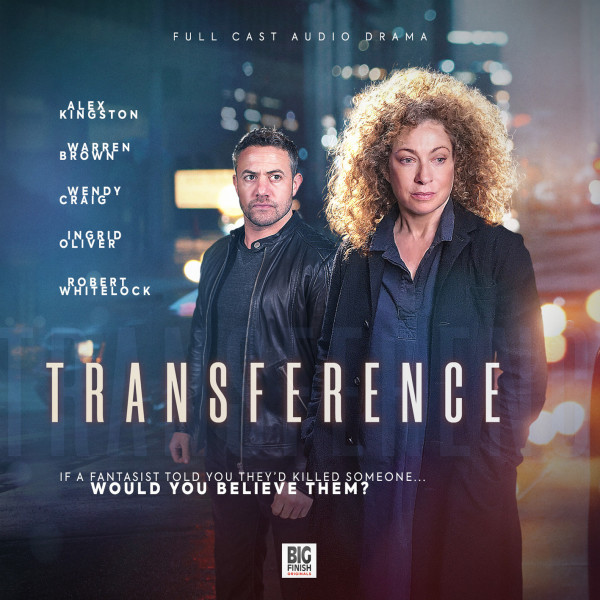 Tune in to the trailer of Transference now. A new eight-hour drama (twice the length of a regular Big Finish Originals series), this release has more twists and turns than you can possibly imagine…
Sam Ross (Alex Kingston) is a psychotherapist – she spends her days helping people, but she can barely help herself. She's still grieving over the recent death of her sister, her mother Barbara offers little support and she's professionally challenged. One of her clients is Keith (Warren Brown), a man whose life story changes with every session. And Keith has a secret – one that will rock Sam's world to the core, and place her in the most terrible danger.
Alex Kingston told us more about why this very different drama for Big Finish appeals to her, "It's a process of trying to uncover the truth. From something visual from television to audio, this is a drama I want to listen to, to figure out what's going on. Thrillers are something that draw audience in. Everyone wants to be their own detective."
And Warren Brown added, "People love to work out the twists, and are constantly second-guessing… it's great when the rug is pulled out from underneath you! Thrillers are so appealing when written well, as this is. You never quite know what you're going to get."
Transference will be released in August 2019 on download from Big Finish at a pre-order price of £34 until its general release at the end of September 2019 where it will rise to £40.
Transference is available as part of the Big Finish Originals range, a new wave of original audio productions launched to celebrate 20 years of publishing award-winning audio drama.
This new series is one of seven in the Big Finish Originals range, which has a whole plethora of different genres, styles and, of course, talent.
For fans of thrillers and horror, Blind Terror – The Gods of Frost starring Eve Myles is perfect.
For those searching for a murder mystery look no further than Shilling & Sixpence Investigate, starring David Warner and Celia Imrie.
Then there's the time traveller with a twist in Jeremiah Bourne in Time, starring Sebastian Armesto and written by The Young Ones' Nigel Planer.
For lovers of classical series such as I,Claudius, the historical Cicero is perfect. It stars Samuel Barnett as Marcus Tulius Cicero, an ambitious young lawyer who is beginning to make a name for himself. But does he have what it takes, and can a new Roman era of peace and prosperity truly last?
And there's ATA Girl, the drama series based on the real lives of female fighter pilots in World War Two. It stars a majority female cast, and almost entirely female production team telling these important stories. It could be the perfect series to listen to before International Women's Day on the 8th of March next month.
And the final Big Finish Original of 2019 will be coming in November - The Human Frontier by Nicholas Briggs. More details will be coming soon!