For The Love Of StoriesBig Finish produce fantastic full-cast audio dramas for CD and download.
Two More Interludes for the Doctor!
16 May 2022
Story details and cover artwork are today revealed for Big Finish's remaining 2022 bonus audiobook downloads which accompany the Sixth and Seventh Doctors' ranges.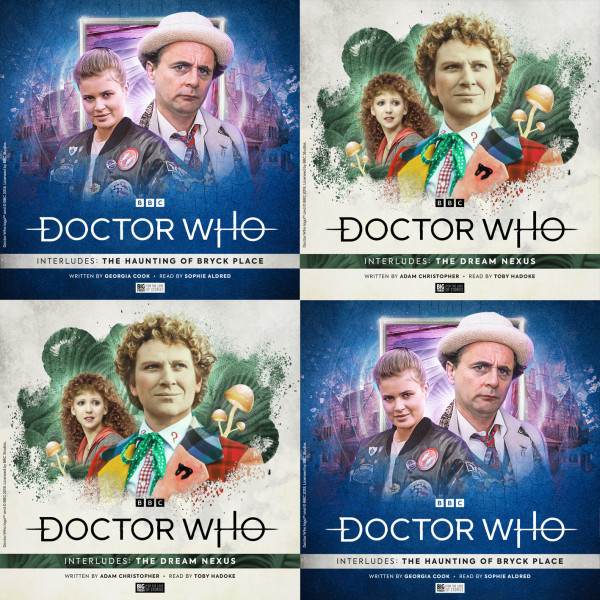 Two writers make their debut at Big Finish with a pair of beautifully crafted stories to accompany the first of 2022's Sixth and Seventh Doctor box sets.
Due for release this month, Doctor Who – Interludes: The Dream Nexus will be accessible to Big Finish listeners who have purchased The Sixth Doctor Adventures: Water Worlds. The story, written by Adam Christopher and read by actor and comedian Toby Hadoke, will continue the adventures of the Sixth Doctor, Mel and Hebe.
The final hour-long audiobook extra of 2022, The Haunting of Bryck Place, is written by Georgia Cook and narrated by Sophie Aldred. This spooky tale, featuring Ace and the Seventh Doctor, will be bundled exclusively with June's Seventh Doctor Adventures box set: Silver and Ice.
The Sixth Doctor Adventures: Water Worlds and The Seventh Doctor Adventures: Silver and Ice are each available to pre-order as collector's edition CD box sets (+ downloads for just £19.99 per title) or as digital downloads only (for just £16.99 per title), exclusively from the Big Finish website.
The Dream Nexus by Adam Christopher
In the distant future, Earth's empire is held together by the Network, an AI interface that connects all its citizens. But the Network has collapsed, trapping millions in a dream with no way out. Could there be an answer in the fungus forests of Zoda-Kappa? While the Doctor and Hebe use their scientific training to help the research, Mel joins the research too – in a far less pleasant way…
The Haunting of Bryck Place by Georgia Cook
Hackney Village, the 1540s. Bryck Place is a new construction: the first house in London built from bricks – but it already has a ghost. The apparition of a young woman, dressed in black, walks the halls nightly, whispering strange incantations. Nobody knows what this entity is, or what it wants, until Ace and the Doctor arrive to unlock the mystery…
Adam Christopher, writer of The Dream Nexus, said: "It was Doctor Who – or perhaps more specifically, Terrance Dicks – that made me want to be a writer in the first place. So, to now be able to contribute to this grand mythos that we all know and love is an absolute thrill! The Sixth Doctor is a fascinating character, and we're so lucky to have his adventures continue far beyond the small screen – and now including one from me!"
Producer of The Dream Nexus, Jacqueline Rayner, added: "Adam Christopher has made his mark in the field of science fiction with his own series of novels, as well as work in worlds such as Star Wars and Stranger Things, so I was delighted he could be tempted into the TARDIS! This is a great story in the Doctor Who tradition of both championing science and holding it to account."
Writer of The Haunting of Bryck Place, Georgia Cook said: "It's been such a dream to write for Ace and the Seventh Doctor! They were my introduction to Classic Who, and remain one of my all-time favourite TARDIS teams.
"I can't thank Big Finish enough for this opportunity, and for letting me put my own spooky spin on an adventure! I really hope everyone enjoys listening to it. I had such a blast writing it."
Sophie Aldred, narrator of The Haunting of Bryck Place, added: "This story is so atmospheric, I was even getting chills reading it in my airing cupboard studio!"
The first Doctor Who – Interludes release, I, Kamelion, written by Dominic Martin and read by Dan Starkey, can be found in the extra downloads of Doctor Who – The Fifth Doctor Adventures: Forty volume 1 released in January 2022.
FAQ
What are Interludes?
Interludes are hour-long audiobook adventures with music and effects, read by a well-known Doctor Who actor.
How do I get them?
Interludes will be available as downloads only to Big Finish listeners who purchase the first box set release from each of the Fifth, Sixth and Seventh Doctor ranges in 2022:
Can I buy Interludes separately, or on CD?
Currently there are no plans to make Interludes available for purchase as individual collector's edition CDs or downloads.
Will there be Interludes bundled with the Eighth/Ninth/First Doctor box sets?
There are no plans for additional Interludes at the moment.
Please note that Big Finish is currently operating a digital-first release schedule. The mail-out of collector's edition CDs may be delayed due to factors beyond our control, but all purchases of this release unlock a digital copy that can be immediately downloaded or played on the Big Finish app from the release date.