We love StoriesBig Finish produce great full-cast audio drama for CD and download, featuring many popular television fantasy series.
UNIT - Revisitations trailer
28 August 2018
Attention recruits! Tune in to the trailer for the seventh series of UNIT - Revisitations. Kate Stewart and the UNIT team are still reeling from the events of UNIT - Cyber-Reality, but the alien threats just keep on coming†¦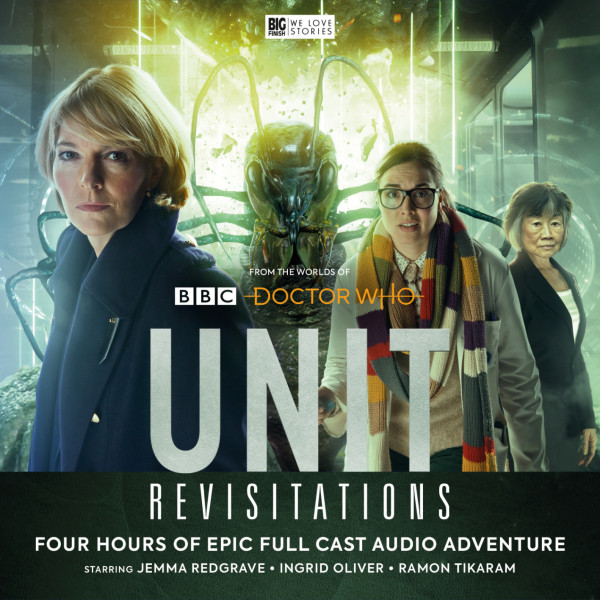 This next box set finds the UNIT team fighting an incursion of the Wirrn (first seen in the Fourth Doctor television story, The Ark in Space) in a two-part tale by Chris Chapman. There's a morality drama by David K Barnes, and the return of Pik-Sen Lim as Chin Lee (originally in the Third Doctor story The Mind of Evil), now a Doctor herself in an adventure by Roy Gill. Will we also see a return of the fearful Keller Machine?
Over the years, UNIT has faced hundreds of extra-terrestrial threats. The Black Archive holds relics of many such encounters, and UNIT's files are filled with reports of strange and dangerous aliens.
And sometimes, they come back.
UNIT 7.1 HOSTS OF THE WIRRN Part 1
After the world's strangest interview, UNIT's latest recruit, Shana Siddiqui, hits the ground running to help Osgood with her latest assignment.
The Master left UNIT a parting gift – something alien and deadly. The Wirrn have come to Earth, and now they are free…
UNIT 7.2 HOSTS OF THE WIRRN Part 2
Larvae are hatching. Grubs are mutating. The infection is spreading. As a swarm takes to the skies, UNIT struggles to contain its menace.
Kate Stewart meets the danger head-on. To rid the Earth of the Wirrn, she must now confront their Queen.
UNIT 7.3 BREACH OF TRUST
An alien vessel arrives on Earth, its occupants seeking refuge, and Osgood takes them in.
But there is reason to mistrust this cry for help. The files show that UNIT has faced the Kalvyri before. What else they reveal will set Kate at odds with her most trusted friends.
UNIT 7.4 OPEN THE BOX
In the years since the Stangmoor Prison incident, Captain Chin Lee found a new calling. She now heads up an international organisation, dedicated to meditation and 'mental fortitude' training.
But there is a menace deep inside the Pandora Institute. And Kate, Osgood and Josh must face their darkest fears…
Jemma Redgrave returns as Kate Stewart, leader of UNIT, joined by Ingrid Oliver as Osgood, UNIT's Scientific Advisor, James Joyce as Captain Josh Carter and Ramon Tikaram as Colonel Shindi.
UNIT – Revisitations is available for pre-order now at £23 on CD or £20 on download, out in November.
Or you can save money in a bundle and get UNIT – Cyber-Reality (series six) with UNIT – Encounters (series five) now, and pre-order UNIT – Revisitations (series seven) and UNIT series eight at £90 on CD or £80 on download.
If you're new to the adventures of the UNIT team, you can get the first episode from series one, UNIT – Extinction, here.
For everyone missing Warren Brown as UNIT's Lieutenant Sam Bishop, you can catch him in tomorrow's release, Lady Christina, opposite Michelle Ryan as Lady Christina de Souza.
Lady Christina has continued her capers, but no bad deed goes unpunished...
Jetsetter, adventurer, and owner of a very unusual London bus, Lady Christina de Souza likes the finest things. Even if they don't belong to her. And the more exotic – or alien – the better.
But Christina's activities have caught the attention of UNIT, and now Sam Bishop is on her trail...