UNIT - Extinction Part 1 - Vanguard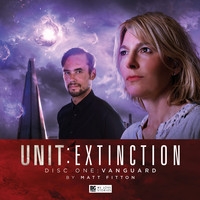 Released June 2017


Synopsis
Available as a free download from June 1st 2017.
This debut episode opens Big Finish's thrilling run of audio adventures for the UNIT - The New Series team, and was originally released in November 2015's Auton adventure UNIT: Extinction.
This has been followed by UNIT: Shutdown, UNIT: Silenced and UNIT: Assembled.
Check out the link here for special value deals collecting all 16 episodes to date.
1.1 Vanguard by Matt Fitton
From a state-of-the-art bunker beneath the Tower of London, Kate Stewart leads a secret army protecting the Earth from extraterrestrial threat. Crashed UFOs, strange meteors, a giant lizard in the Severn - all business as usual for UNIT.
While Scientific Advisor Osgood attends a 'skyfall' incident with Colonel Shindi and Captain Josh Carter, Kate's duties take her to visit Devlin Future Tech, and reclusive billionaire Simon Devlin.
Journalist Jackie McGee is also on FutureTech's case, and nothing's going to get in the way of her story: a product launch that will change the world...
Written By: Matt Fitton
Directed By: Ken Bentley
Cast
Jemma Redgrave (Kate Stewart), Ingrid Oliver (Osgood), Warren Brown (Lieutenant Sam Bishop), Ramon Tikaram (Colonel Shindi), James Joyce (Captain Josh Carter), Steve John Shepherd (Simon Devlin), Karina Fernandez (Jenna Gold), Tracy Wiles (Jacqui McGee), Derek Carlyle (Tim Stevens) and Nicholas Briggs (The Nestene Consciousness). Other parts played by members of the cast.
Producer David Richardson
Script Editor Ken Bentley
Executive Producers Jason Haigh-Ellery and Nicholas Briggs