5. UNIT - Encounters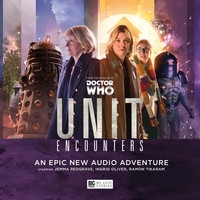 Released November 2017


Prices
CD
US $38.49
Download
US $25.00

Web Special Price!


Synopsis
"It's wonderful to have the whole UNIT team, save Sam Bishop who is off on another James Bond mission, working together. Fitton's script balances the screen time and gives every team member enough to do to warrant their inclusion. Oh and did I mention the banter? Yes, we have some good banter here folks. The chemistry in this team is strong." Doctor Who TV
"An Experimental collection of adventures exploring the UNIT family further including a fascist alternative reality of corruption within UNIT itself which is quite unsettling" The Host Productions
Protecting the Earth is a full-time job, but Kate Stewart and her team are always prepared. Join UNIT as they deal with threats from other worlds, and some from closer to home...

The Dalek Transaction by Matt Fitton
When a rogue guerrilla faction offer an alien artefact for auction, Kate Stewart and her team go undercover to the jungles of Central America. But they find that the prize on offer is far deadlier than its owners realise. Captive, desperate and alone. That's when a Dalek is at its most dangerous.
Invocation by Roy Gill
It's Hallowe'en, and Josh finds himself at a party where phantoms are becoming all too real. Osgood is working late and hears a voice from the skies making strange incantations. The next day, Kate has gone missing in the Scottish Borders, and the team head north to investigate. Ghosts from the past are haunting UNIT, and now they threaten the whole world…
The Sontaran Project by Andrew Smith
On a routine reconnaissance mission, Colonel Shindi finds more than he bargains for in the Forest of Ardennes. Back in England, an old colleague makes Osgood an offer she cannot refuse. The chance to take part in an exciting new scientific advance. Before long, UNIT is on collision course with a force of alien clones, and Kate must forge an unlikely alliance.
False Negative by John Dorney
When a strange travel capsule is activated in UNIT's laboratory, Osgood and Josh find themselves in a whole new world of trouble. Soon, nobody at UNIT HQ is quite who they seem, and the team discovers that the greatest danger they could ever face comes from within...
Written By: Matt Fitton, Roy Gill, Andrew Smith, John Dorney
Directed By: Ken Bentley
Cast
Jemma Redgrave (Kate Stewart), Ingrid Oliver (Osgood), James Joyce (Captain Josh Carter), Ramon Tikaram (Colonel Shindi), Karina Fernandez (Captain Gonsalves/ Phoebe Breckenridge), Lucy Fleming (Alice Donelly), Matthew Cottle (Ben Donelly/ Overseer), David Jonsson (Corporal James Morley), Dan Starkey (Marshal Skar/ Commander Merx/ Sontaran Escapee), James Wilby (Professor John Torrance), Beth Goddard (Christine Colley), Barnaby Edwards (Satellite voice), Jot Davies (Guerilla/ AIDE/ Soldier) and Nicholas Briggs (The Daleks). Other parts played by members of the cast.
Producer David Richardson
Script Editors Matt Fitton, John Dorney
Executive Producers Jason Haigh-Ellery and Nicholas Briggs