For The Love Of StoriesBig Finish produce fantastic full-cast audio dramas for CD and download.
UNIT: Shutdown - Listen to the trailer from the Worlds of Doctor Who...
10 June 2016
The Tengobushi are nearly here, and Kate Stewart's next great battle is about to begin. Check out our preview of Big Finish blockbuster box-set...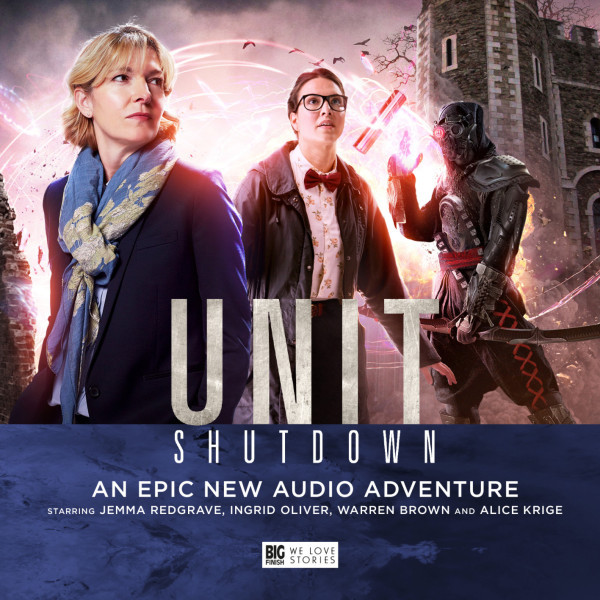 The Unified Intelligence Taskforce – an international initiative to investigate and confront alien attacks across the planet Earth. From a secret headquarters in the Tower of London, the UK division is led by Kate Stewart (Jemma Redgrave) - the daughter of the legendary Brigadier Lethbridge-Stewart - an expert in combating the extra-terrestrial threats that seek to conquer the world.
UNIT's latest threat comes in the form of the terrifying Tengobushi, a mysterious caste of alien warriors, whose reasons for arriving on Earth are linked to a dangerous new initiative. Discover their deadly plan for the world in an all-new trailer, available to listen to on the range page here or via the SoundCloud player below:
Aiding Kate against these new enemies is her able science officer Petronella Osgood (Ingrid Oliver), whose attempts at a social life are put in danger by the aliens. International troubleshooter Lieutenant Sam Bishop (Warren Brown) also returns to action alongside Captain Josh Carter (James Joyce).
Hindering UNIT is Felicity Lyme, played by Alice Krige (Star Trek: First Contact, Chariots of Fire, Deadwood). Lyme's interests stretch across the globe, and her influence will have disastrous consequences for Kate Stewart. Dan Li portrays the Tengobushi's master Dokan; whose military genius and unbreakable discipline prove more than a match for UNIT's veteran soldiers.
The set has been directed by Ken Bentley and written by Matt Fitton and Andrew Smith. It contains the following four stories:
2.1 Power Cell by Matt Fitton
Osgood and Captain Josh Carter are sent to investigate the disappearance of a UNIT scientist.
Meanwhile, alien technology has fallen into the hands of Lyme Industries, and Kate Stewart can't persuade the company's CEO, Felicity Lyme, to give it back.
But UNIT find themselves fighting a third battle when innocent people start to die. Who are the mysterious assassins? And what does Felicity Lyme want with top secret alien technology?
2.2 Death in Geneva by Andrew Smith
With few people left to trust, and with assassins on their tail, Kate and Osgood race to UNIT Command in Geneva. Will General Blair be able to help them?
But when death follows UNIT all the way from the English countryside to the snowy slopes of the Alps, Captain Carter finds himself in a race against time.
As the body count rises, Kate struggles to separate friend from foe, danger circles Osgood ever closer, and, high in the mountains, Josh comes face to face with the enemy...
2.3 The Battle of the Tower by Andrew Smith
The threat is now clear, and Kate Stewart retreats to UNIT HQ with her most trusted colleagues. She has no choice but to place the Black Archive into lockdown, and the Tower of London is where UNIT will make its stand.
While the capital sleeps, an alien horde is gathering, ready to rise from the shadows to attack Earth's greatest defence force inside its own stronghold.
The Tower is infiltrated, and UNIT must hold the line. At any cost. Lock and load...
2.4 Ice Station Alpha by Matt Fitton
Caught between human greed and an unstoppable alien power, Kate Stewart leads her closest allies on one final, desperate mission. This could be the very last chance for the human race.
But the UNIT team has been declared rogue, and ruthless military forces are in pursuit as they race across the globe. Kate calls Lieutenant Sam Bishop to their aid, while Josh and Osgood head out across the frozen Antarctic plains to try and prevent a disaster no-one else knows is coming.
UNIT: Shutdown can be pre-ordered today ahead of its release later this month for just £20 on both CD and to download. You can also order as part of the UNIT: The New Series bundle, alongside 2015's UNIT: Extinction, November's UNIT: Silenced and a fourth box-set due for release in 2017. With complimentary digital copies included with CD orders, you'll be able to enjoy the new missions as soon as the box-set is deployed!
Check out Big Finish's full range of audios based on the New Series of Doctor Who on our range page here.