For The Love Of StoriesBig Finish produce fantastic full-cast audio dramas for CD and download.
The Big Finish Podcast - Trevor Baxter and Charlotte Pollard (March #01)
5 March 2017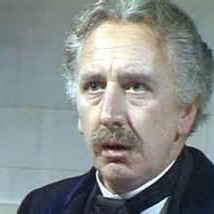 Nick Briggs and Benji Clifford are in their respective chairs, presenting all the latest from Big Finish. Guest star Trevor Baxter (of Jago and Litefoot). Drama tease from Charlotte Pollard Series 2.
Here's Benji's largely inaccurate summary of this week's podcast: 'Bacon sandwiches, pliers, more Kidderminster, Charlotte Pollard, Cicero, great banter, Death to the Daleks, record shops, Krotons, Krotons, yeah, loads of Krotons.'
There will, of course, be the following too...
Ben Briggs - Nick's 7 year old son pops in to update us on his latest Big Finish 'starring' role.
Big Finish News - this is where the erroneous bacon sandwiches come in. But there's serious news about new releases as well.
Listeners' Emails - just email us at podcast@bigfinish.com to join in. Death to the Daleks may feature, but not exclusively.
Guest Star Interview - Professor George Litefoot, Trevor Baxter, talks culture and trash. Highly entertaining.
Randomoid Selectortron - a release is randomly selected from the BF Archives for your delectation.
Latest Releases - What's available to listen to right this instant!
Charlotte Pollard Series 2 - Our drama tease extract is the first fifteen minutes of the long awaited return of the former Eighth and Sixth Doctor companion, played by India Fisher. (This is from Part One: Embankment Station.)
Plus! An exciting, unexpected, unannounced tease...
This podcast can be downloaded or streamed right now by the act of simply clicking one of the helpful buttons below. As usual, it's been released half a day early, just for you. Sssh, don't tell anyone.