8a. All-Consuming Fire Part 1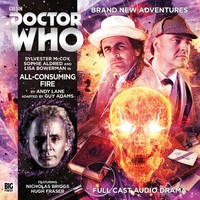 Released December 2015
Synopsis
(This episode opens the December release Doctor Who - All Consuming Fire)
A sinister intelligence lurks on the streets of 1887 London - and the Doctor's only hope is to join forces with England's most notable consulting detective - Sherlock Holmes.
Based on the original 1994 New Adventures novel by Andy Lane.
'Scott Handcock, again, directs a complex, huge scale story with a light touch that gives his excellent cast room to breathe and, again, it pays off massively.' Sci-Fi Bulletin
Written By: Andy Lane, adapted by Guy Adams
Directed By: Scott Handcock
Cast
Sylvester McCoy (The Doctor), Sophie Aldred (Ace), Lisa Bowerman (Bernice Summerfield), Nicholas Briggs (Sherlock Holmes), Richard Earl (Doctor John Watson), Hugh Fraser (Sherringford Holmes), Anthony May (Baron Maupertuis), Aaron Neil (Tir Ram), Samantha Béart (Mrs Prendersly), Michael Griffiths (Ambrose), Guy Adams (K'Tcar'ch).
Other parts played by the cast.