1.4. An Ordinary Life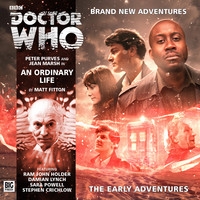 Released December 2014


Prices
CD
US $9.85
Download
US $6.00

Web Special Price!



Behind the Scenes
Episode List
1. An Ordinary Life
2. The Unalike
3. The Sleeping Army
4. The Enemy Without
An Ordinary Life is written by Matt Fitton. He said: "David came to me with the brief of placing Steven and Sara in 1950s London, stranding them in a completely alien environment with the very real possibility that they might just have to get used to living there – an 'ordinary life'. Added into the mix was the idea that they'd be befriended by some of the Windrush generation of recent arrivals to British shores, to give a different perspective on the times.

"Andrea Levy's Small Island was mentioned as something to take a look at. I'd seen the recent TV adaptation, and picked up the book. I scoured the library for accounts from immigrants arriving in the Fifties: the places they lived, the kind of work they did. It was very gratifying when Ram John Holder told me how authentic he thought it was: he said he'd had a landlord just like Figgis!

"Rather than just being defined by their origins, however, above all, I wanted the Newmans to come across as a real family – looking out for each other and trying to put food on the table – living that ordinary life, but in a new and unfamiliar place." Matt was delighted with the way the play was brought to life at the Moat Studios. He said: "I knew how great Peter Purves would be, from my experience with Return of the Rocket Men. With him, you can write three parts at once: Steven, the Doctor, and a narrator. And meeting Jean Marsh – real television royalty – was quite an experience. She was lovely – very naughty too! – and she gave it her all to bring Sara to life. The guest cast sounded perfect alongside them, and I'm really looking forward to hearing it with all the contemporary sound design to give it that 1950s feel."

With the imminent return of the Companion Chronicles as box sets, fans of Doctor Who's formative years will be spoiled for choice. Matt said: "I think that fans of the earlier Doctors will be delighted to have brand new adventures with the original cast. It should be like listening to the soundtracks of lost stories – giving us a chance to do something different and new with the era, to tell stories which should feel faithful, but which may not have been possible to tell at the time. With this series of Early Adventures, and Companion Chronicles continuing too, there should be something for everyone who loves the First Doctor and his friends."
David added: "I rather love it. It feels very different to The Companion Chronicles or The Lost Stories – these are new scripts that are immersed in that wonderful black and white era of the show."