39. Bang-Bang-a-Boom!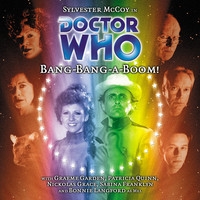 Released December 2002


Prices
Download
US $2.99

Web Special Price!



Behind the Scenes
Chronological Placement
This story takes place between the television adventures, Paradise Towers and Delta and the Bannermen.
LISTEN AGAIN: BANG-BANG-A-BOOM


After the euphoria from everybody surrounding The One Doctor, it wasn't long before producer Gary Russell was going ding-a-dong at the doors of Clayton Hickman and Gareth Roberts to write Big Finish another script. Those rock 'n' roll kids were doing wild dances after getting their second commission, as the producer believed they could recapture the magic.

Gary says, "Because of The One Doctor and its success, all I said to Clay and Gareth was, 'Give me something as weird, wacky and fun, again with Bonnie, but this time with Sylvester.' They came up with the idea of doing an intergalactic Eurovision song contest, and that was all I needed to hear – I didn't ask for a synopsis, I just said, 'Off you go!'"

Co-writer Gareth says, "We viewed the BF stuff seriously when writing but it wasn't our main job and we wanted to have fun doing it, so any pressure would have killed that off, so there can't have been much. What we did take from The One Doctor was how amazing Bonnie was, so we were determined to do her justice. Gary Russell asked us for a Sylvester story and we agreed so long as it was Mel, so we could use the fun season 24 Doctor, not the later version with all his plots and plans. And pots and pans.

"We just sat down and bashed it out together taking turns at the keyboard. Clay sorted all the admin side, if you like, talking to Gary Russell, etc, but that's how we always work when we write together. Same room, same desk, same ashtray. Like Pip and Jane, but not married.

"Eurovision was much more fun in the olden days when people hadn't quite worked out how funny it was. Neither of us are massive fans of it, but it was the perfect thing to substitute for a Star Trek-style conference at that rundown space station."
Director Nicholas Pegg explains, "I wheedled Jason Haigh-Ellery into letting me have a slightly bigger casting budget than usual so that we could get a few bigger names. The four 'guest star' turns were Graeme Garden, Sabina Franklyn, Nickolas Grace and Patricia Quinn, all of whom were just wonderful.

"Graeme Garden is an absolute hero of mine. And he got the professor completely. I remember him saying to me before we recorded the first scene, 'So, Barry Morse in Space: 1999 except he's drunk, yes?' That was it. He'd nailed it in one!"

Musician Andy Hardwick adds: "I do remember Nick Pegg giving me pretty much free range to be as silly as I wanted with the song contest entries.

"Sylvester's super spoon performance was recorded at The Moat Studios freestyle without any backing track. It was pretty hard to do anything to what he'd done, which didn't matter really as that was kind of the point. Initially I did a [UK R&B star] Craig David-style track for it, but decided to go all out 'Euro-camp-trash' in the end. I thought this worked a lot better and was much easier to make the crowd sound like they were clapping along with it."