6.X. Forever Fallen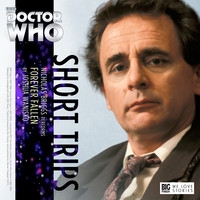 Released December 2016


Prices
Download
US $0.00

Web Special Price!


Synopsis
"Just occasionally you find a new writer who absolutely nails the distinctive traits of one of your favourite characters," - Sci-Fi Bulletin
"...And it's not just the author who rocks this. You can always rely on Nicholas Briggs to do a brilliant job, and as ever, he doesn't disappoint," Mass Movement
Doctor Who: Short Trips Monthly is a series of new short stories read by an original cast member. This special release is a Seventh Doctor and Ace story, and is offered as a free download via the Paul Spragg Short Trips Memorial Opportunity in 2016.
Until now, an offered chance from the Doctor has never stopped the villain's schemes.
Until now, the android armies, the powerful space stations, the mind-control rays, have gone unchecked to disastrous effect.
Until now...
...But then what happens?
Producer Ian Atkins
Script Editor Ian Atkins
Executive Producers Jason Haigh-Ellery and Nicholas Briggs
Written By: Joshua Wanisko
Directed By: Neil Gardner
Cast
Nicholas Briggs (Narrator)