i. Real Time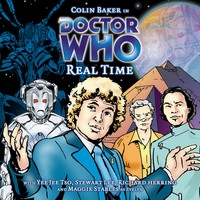 Released December 2002
Prices
CD
US $6.64

Web Special Price!


Behind the Scenes
Chronological Placement
This story takes place between the television adventures, The Trial of a Time Lord and Time and the Rani.
Production Notes
Real Time was originally broadcast as an animated web drama on the BBC's Doctor Who website between 2 August and 6 September 2000. Despite being animated, the script and audio production were specifically designed so that the story could be followed and understood perfectly as a purely audio production.