2. Seven Keys to Doomsday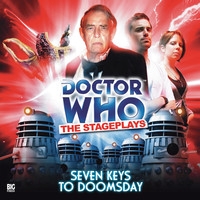 Released October 2008


Prices
CD
US $6.43
Download
US $4.99

Web Special Price!


Behind the Scenes
AUDIO ADAPTATION - Terrance Dicks

Vortex #46 (which can be downloaded HERE) looks at bringing the Doctor Who stageplay to life again...
SEVEN KEYS TO DOOMSDAY
For one night only, Trevor Martin is the Doctor – again! Kenny Smith learns the secrets of stage play SEVEN KEYS TO DOOMSDAY
Britain has a wonderful tradition every December of going to the pantomime: a theatre show with larger than life characters, over-the-top moments, plus plenty of thrills and spills along the way. What better way is there to get into the festive spirit than by giving the Seven Keys to Doomsday a spin?
Adapted by Terrance Dicks from his own 1974 stage play, it brought Trevor Martin back to the role of the Doctor, to face off once again with the dreaded Daleks.
Director John Ainsworth recalls: "Before I was offered the chance to direct Seven Keys, I don't think anybody else at Big Finish was seriously considering having Trevor as the Doctor. I wasn't meant to be involved in the stage plays at all but I expressed such an enthusiasm for the project and had such strong opinions on how it should be done that [line producer] David Richardson invited me to be involved. I was very keen that Trevor should play the Doctor again in our version of Seven Keys."
Trevor Martin remembers, "I was approached by the director, John Ainsworth, to see if I'd like to do it. I didn't know him, but he told me he had seen me in something, so we met up and he put it to me, and I leapt at the chance."
Also in the cast was Charlie Hayes – daughter of Wendy Padbury, who had originally played the new companion, Jenny.
John says, "I could have asked Wendy Padbury to play Jenny again, but having decided to go with a new supporting cast it quickly occurred to me that Wendy's daughter Charlie would be a good choice. She was the right age for the part but, obviously, there was still a nice connection to the original production as well."
Charlie says, "I told Trevor who I was when I first met him, and he took a moment to digest the information – he was lovely. It was great, and really nice to do."
Trevor adds, "It was tremendous working with Charlie Hayes. It was a great bit of casting, bringing in the daughter of the girl who played it in the original play, Wendy Padbury. We got on terribly well."
John says, "I didn't liaise with Terrance [Dicks] at all, prior to the studio recording. Terrance came along to the studio recording and his first words were, 'I'm interested to see what you've done with it'. I explained that I had done a bit of script editing and, of course, as a script editor himself, he completely understood. He sat with me for the entire recording, following the action in the script and being ready to discuss any points as they arose. He never once raised any concerns about the changes that I'd made. He sent me a lovely email a few days later saying that it had been a new and fascinating experience for him and had opened his eyes to what can be achieved with sound alone.
"Trevor sent me a note after he'd received the finished CD saying that 'it was a strange but enjoyable feeling doing it again after thirty-four years'."