Shadows of the Night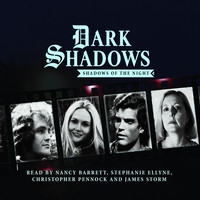 Released December


Prices
| | |
| --- | --- |
| CD | US $19.99 |
| Download | US $12.99 |
Synopsis
This title was released in December 2017. It will be exclusively available to buy from the BF website until January 31st 2018, and on general sale after this date.
Four tales of horror, romance and intrigue…
Trio by Nick Myles
Carolyn Stoddard and Amy Jennings are the greatest of friends and they would never let a man come between them. But the mysterious pianist Jude is no ordinary man…
Honeymoon From Hell by Antoni Pearce
Cyrus Longworth and Sabrina Jennings have finally defeated their demons and are now married. But, when on their honeymoon in Germany, they see a man watching them can they be sure that they've escaped their past?
Retreat by Daniel Hinchliffe
Amy Jennings may be on vacation, but when a last day in Paris becomes a hunt for a friend through a long-neglected bookstore, it seems there are some things you can never run away from...
1:53 AM by Lila Whelan
Doctor Robert Harper is visited by his old friend, Carolyn. She needs his help to investigate what appears to be a case of possession in a typical suburban house. But he is about to discover that it's not only the Collins family who have dark secrets…
Written By: Nick Myles, Antoni Pearce, Daniel Hinchliffe, Lila Whelan
Directed By: David Darlington and Jim Pierson
Cast
Nancy Barrett, Christopher Pennock, Stephanie Ellyne, James Storm