6. Survivors Series 06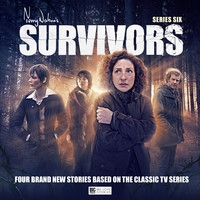 Out in June
Prices
Pre-order CD
US $31.27
Pre-order Digital
US $20.00

Web Special Price!

Synopsis
It begins with just a few people falling ill. Another flu virus that spreads around the globe. And then the reports begin that people are dying…
When most of the world's population is wiped out, a handful of survivors are left to pick up the pieces.
Cities become graveyards. Technology becomes largely obsolete. Mankind must start again. But viruses are suvivors too...
Four new battles for survival, from the world of Terry Nation's cult-classic series.
6.1 TBA
6.2 The Trapping Pit by Christopher Hatherall
6.3 Revenge of Heaven by Simon Clark
6.4 TBA
More details coming soon.
NOTE: Survivors contains adult material and is not suitable for younger listeners.
Written By: Christopher Hatherall, Simon Clark, TBA
Directed By: Ken Bentley
Cast
Carolyn Seymour (Abby Grant), Ian McCulloch (Greg Preston), Lucy Fleming (Jenny), Helen Goldwyn (Ruth), Julie Graham (Katherine Tanner)
Further cast details to be announced
Producer David Richardson
Script Editor Matt Fitton
Executive Producers Jason Haigh-Ellery and Nicholas Briggs