6.01. Tales From the Vault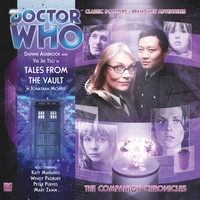 Released July 2011


Prices
| | |
| --- | --- |
| CD | US $12.07 |
| Download | US $7.99 |

Behind the Scenes
CHRONOLOGICAL PLACEMENT:
These stories take place at various points...
OPENING THE VAULT
Writer Jonathan Morris on Tales from the Vault
What was the brief for this story?
Big Finish producer David Richardson emailed me to say he had a 'bonkers idea for a Companion Chronicle about a character who 'is the clean-up man after alien invasions'. The brief also included the idea of featuring cameos from three companions, which soon became four. I suggested doing a Amicus-style portmanteau story, where four alien artefacts suggest four different stories. And then David suggested making the 'clean-up men' two American UNIT agents, so the roles could be played by Daphne Ashbrook and Yee Jee Tso.

How complicated was it working in all the elements and a linking storyline?
I was given the choice of which companions should feature, so I chose one from each Doctor, favouring companions I hadn't written for before. The main difficulty was that each of them could only feature for about 2 or 3 pages' worth of dialogue, so the two UNIT agents, Ruth Matheson and Charlie Sato, would have to fill in a lot of the narrative. I wanted that to be done in a different way each time, and for each recording of a companion to be by a different means (a tape recording, a memory crystal, a wax cylinder etc.). It was quite tricky coming up all the devices, as well as thinking up the four short stories. The real headache, though, was finding a way of incorporating elements from the four short stories into a 'pay-off' in the framing narrative without it seeming contrived.

Was it fun creating new characters for Daphne and Yee Jee to play?
Absolutely. It's unusual to create new characters knowing they will be played by specific actors, but it does help to write for known voices. And I think we've only scratched the surface as far as those Ruth and Charlie are concerned; I worked out background stories for them both which never got used in Tales From The Vault.

Did you listen to the final play?
I did. I always listen to my things as soon as possible! I thought the two leads were excellent and I loved what the four guest stars did with their cameos, particularly Katy Manning's ad-libs for the bit where Jo makes the Doctor's tea (my favourite part of the story).