The Avengers: Tunnel of Fear (Excerpt)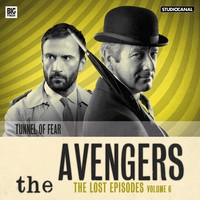 Released October 2016
Synopsis
A special free excerpt from The Avengers - The Lost Episode Volume 6, marking the return to the archives of the classic lost Avengers TV episode!
Tunnel of Fear by John Dorney, from a storyline by John Kruse
Southend. A perfect spot for a family holiday - or for a traitor to hide.
Somewhere in the town lurks a spy ring that is smuggling out classified information. When his old mole is attacked, and with innocent lives at risk, Steed takes Keel to the seaside for a far from sunny time.
Written By: John Dorney, adapted from a storyline by John Kruse
Directed By: Ken Bentley
Cast
Anthony Howell (Dr Keel), Julian Wadham (John Steed), Lucy Briggs-Owen (Carol Wilson), Pete Collis (Harry Black), Charlotte Strevens (Mrs Black), Amy Embank (Claire), Tony Turner (Wickram), Charles Davies (Maxie Lardner)
Other roles played by the members of the cast.