2.2. The Tenth Doctor Adventures: The Sword of the Chevalier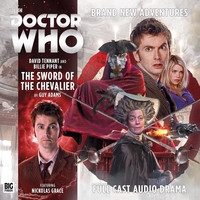 Released November 2017


Prices
| | |
| --- | --- |
| CD | US $14.17 |
| Download | US $8.99 |

Synopsis
2.2 The Sword of the Chevalier
1791 and the Doctor and Rose get to meet one of the most enigmatic, thrilling and important people in history: The Chevalier d'Eon. She used to be known as a spy, but then she used to be known as a lot of things. If there's one thing the Doctor knows it's that identity is what you make it. Choose a life for yourself and be proud. Mind you, if the Consortium of the Obsidian Asp get their way, all lives may soon be over...
Written By: Guy Adams
Directed By: Nicholas Briggs
Cast
David Tennant (The Doctor), Billie Piper (Rose Tyler), Nickolas Grace (Chevalier D'Eon), Mark Elstob (Joxer / Butler), Tam Williams (Christopher Dalliard), Lucy Briggs-Owen (Hempel / Dancer / Duchess), James Joyce (Darcy / Groom). Other parts played by members of the cast.
Producer David Richardson
Script Editor Matt Fitton
Executive Producers Jason Haigh-Ellery and Nicholas Briggs