We love StoriesBig Finish produce great full-cast audio drama for CD and download, featuring many popular television fantasy series.
A Treasury of Bernice Summerfield
7 August 2018
Out for release today is a new collection of pre-existing adventures brought to life on audio. Bernice Summerfield: Treasury contains short stories previously only available in print from notable writers that many Doctor Who viewers and listeners will recognise.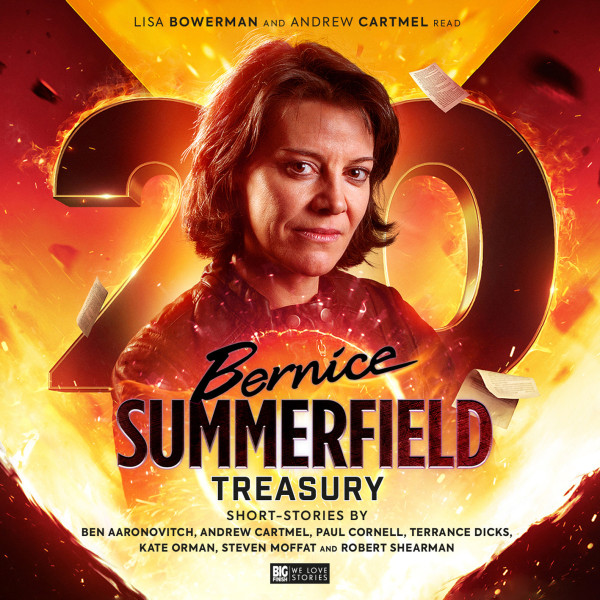 Bernice Summerfield: Treasury is here! Containing a whole variety of stories from the world of Bernice Summerfield narrated by Benny herself – Lisa Bowerman – and Andrew Cartmel. With writers such as Ben Aaronovitch, Robert Shearman, Paul Cornell, Kate Orman, Steven Moffat, Andrew Cartmel and Terrance Dicks, this dig into Benny history is a must for audiobook lovers.
The Evacuation of Bernice Summerfield Considered as a Short Film by Terry Gilliam by Ben Aaronovitch
A lonely orphan on a vast transport ship meets some peculiar fellow travellers.
And Then Again by Robert Shearman
Who is Bernard Summerfield? What's happened to his life? And why has he lost his spot in the company car park?
Misplaced Spring by Paul Cornell
The Braxiatel Collection is recovering from an invasion in a variety of surprising ways.
Solar Max and the Seven-Handed Snake-Mother by Kate Orman
Bernice is on an expedition to a remote site. She's about to discover something unpleasant about her fellow explorers.
Walking Backwards for Christmas by Ben Aaronovitch
How did we get here? Bernice looks back at her life using a history machine.
The Least Important Man by Steven Moffat
Gavin's had a fairly miserable life, all of it watched over by the ghostly figure of a woman silently commenting.
Bernice Summerfield and the Library of Books by Andrew Cartmel
Inside an ancient library is an ancient secret. The secret is, of course, deadly, but it's deadly in an entirely unique way.
A Mutual Friend by Terrance Dicks
Bernice Summerfield learns why you should always talk to the person you're sharing a table with at a cafe.
Producer, James Goss, tells us more about Bernice Summerfield: Treasury: "Big Finish has been publishing Benny short stories for twenty years and some astonishing names have contributed. Treasury is a collection of just some of them – a range of rare, delightful and surprising gems."
Bernice Summerfield: Treasury is available now priced at £20 on CD or £15 on download.
Plus next month, two new volumes of Benny adventures are in store for us! From growing up in a military academy (in which Benny is played by Emily Laing), to reacquainting herself with former beau Jason Kane (plus the Grel! Good fact!), and a sojourn at the Braxiatel Collection (with Miles Richardson back as Irving Braxiatel), it's a trip down memory lane in The Story So Far Volume 1.†¨
And in The Story So Far Volume 2, Benny crosses paths with an incarnation of the Doctor played by Michael Jayston (I wonder where we've met him before…), a reunion with Ruth where they meet the Drahvins (from Doctor Who TV series Galaxy 4), and a mysterious Professor played by David Warner. Could the Unbound Doctor be returning?
Bernice Summerfield: The Story So Far... Volumes 1 and 2 are available for pre-order individually at £15 on download or £20 on CD. Or you can save money in a bundle – pre-order Volumes 1 and 2 together for £28 on download or £38 on CD.