For The Love Of StoriesBig Finish produce fantastic full-cast audio dramas for CD and download.
Apocalypse Ahead for the Third Doctor!
25 October 2022
An alien space messiah has an urgent prophecy for the Third Doctor in a brand-new, and authentically 1970s, audio box set released today by Big Finish Productions.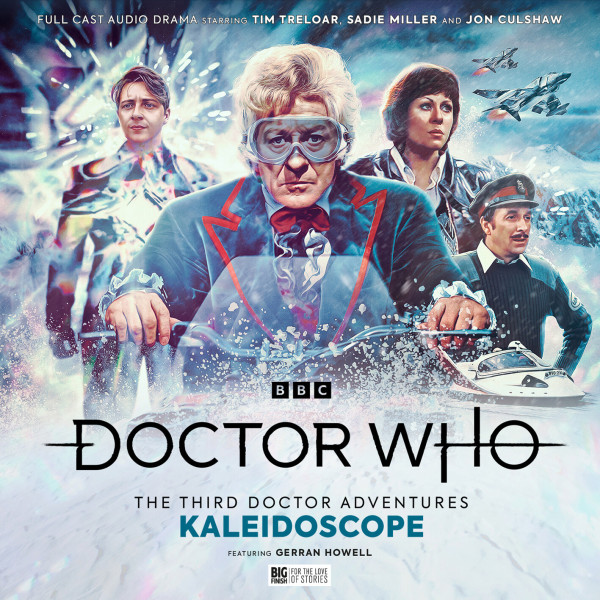 In their latest adventure, the Doctor (Tim Treloar), Sarah Jane Smith (Sadie Miller) and the Brigadier (Jon Culshaw) encounter a man that fell to Earth in the form of Kaleidoscope (Gerran Howell).
It's an action-packed six-part story featuring all the hallmarks of Pertwee–era Doctor Who – a secret military base, a high-speed chase, and an alien invasion from outer space.
Doctor Who – The Third Doctor Adventures: Kaleidoscope, written by Alan Barnes, is now available to own as a collector's edition CD box set (+ download for just £19.99) or a digital download only (for just £16.99), exclusively here.
His name is Kaleidoscope. He claims to have travelled halfway across the universe to warn all humankind that it stands on the brink of extinction. And a certain tenacious young journalist has got an exclusive interview with this alien messiah...
But it's not Sarah Jane Smith who's got the out-of-this-world scoop, it's her rival, the unscrupulous Jenny Nettles. Sarah's busy helping the Doctor and UNIT work out if Kaleidoscope is for real or a fake when RAF Phantoms scramble to intercept an unidentified something homing in on a top-secret missile base.
It seems like Kaleidoscope's apocalyptic predictions might all be about to come true.
Director and Script Editor Nicholas Briggs said: "I always have great fun directing The Third Doctor Adventures, which is why I keep doing it! Tim Treloar is a real laugh.
"It's lovely that people get what we're doing with the Third Doctor range. I think we've really pursued the 'nostalgia with a twist' philosophy of making it feel 100 percent authentic while adding some more modern storytelling sensibilities."
Producer Heather Challands added: "Sean Longmore has done an absolutely astonishing job on the cover. It feels really fresh but totally of the period, you can absolutely imagine Jon Pertwee loving the idea of riding a snowmobile!"
"Alan Barnes is a very clever writer and he worked with Nick and me on the previous Third Doctor Adventures story, The Annihilators, so he understood the format of one great big long adventure. It's such a mammoth script so a lot of the plot points were worked out at storyline stage. Alan just gets the era; I was shocked to find out that he'd never written for the Brigadier before!"
Doctor Who – The Third Doctor Adventures:Kaleidoscope is now available to own for just £19.99 (collector's edition CD box set + download) or £16.99 (download only).
Big Finish listeners can save money by purchasing this box set and The Third Doctor Adventures: The Annihilators together in a bundle for just £38 (collector's edition CD box set + download) or £33 (download only).