For The Love Of StoriesBig Finish produce fantastic full-cast audio dramas for CD and download.
Bambera's Brave New World is Revisited
5 October 2022
Full story details are today revealed for the second box set of action-packed audio adventures starring Angela Bruce and due for release in December 2022 from Big Finish Productions.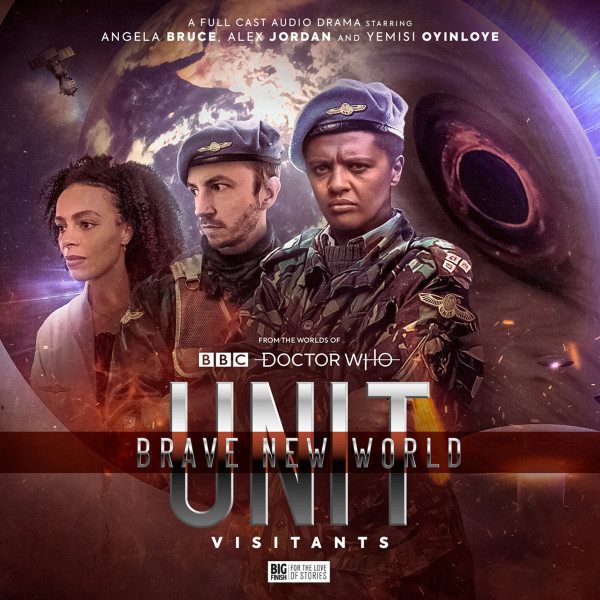 The 1990s UNIT team of Brigadier Bambera (Angela Bruce), Sergeant Jean-Paul Savarin (Alex Jordan) and Dr Louise Rix (Yemisi Oyinloye) are back to encounter mind-controlling technology, a malevolent supernatural entity, and a full-scale alien invasion.
Also joining the cast of this full-cast audio drama box set is Nathaniel Curtis (It's a Sin, The Witcher: Blood Origin) in multiple roles, David Menkin (Florence Foster Jenkins) as Colonel Hagen and Liz Sutherland-Lim (Holby City) returns as Dame Lydia Kingsley.
UNIT- Brave New World: Visitants is now available to pre-order as a collector's edition 3-disc CD box set (+ download for just £19.99) or download only (for just £16.99), exclusively here.
The countdown to the millennium begins. New dangers face Brigadier Winifred Bambera, Sergeant Jean-Paul Savarin and Dr Louise Rix, some manmade, some uncanny, and some from beyond this world. To defeat them they must stand together... or there'll be no tomorrow.
The three episodes in this latest instalment are:
The Frequency by Tajinder Singh Hayer
UNIT has been invited to take part in the testing of a top-secret US Air Force project designed to make military groups function better as a team: the 'Hoplite Frequency'. However, the implications of this powerful mind-altering technology make Sergeant Savarin uncomfortable. Will Bambera heed the misgivings of her loyal Number Two, or take the charismatic Colonel Hagen up on his offer and choose to embrace the Frequency?
Haunt by Lizzie Hopley
Bambera joins Rix on an excursion up north to investigate strange goings on at the abandoned Greensands Hotel. Are local legends true that the hotel is haunted by a murderous bogeyman known as Baghead, or is there a more down-to-earth explanation? The only way to uncover the truth is to stay in the hotel overnight, but their digging into the building's past has awoken something that would have been better left alone.
The Last Line of Defence by Robert Valentine
With the civil war in Valge Maja threatening to spark an even greater conflict, Bambera is put in charge of security at a secret Millennium Eve peace conference to settle the matter. But as all of Earth's leaders gather to debate the future of humanity, dark forces have conspired to ensure that this meeting will usher in a terrifying New World Order, and with the clock ticking, who can possibly stand in their way?
Tajinder Singh Hayer, who wrote The Frequency, said: "It's a tech thriller that taps into a healthy amount of paranoia and conspiracy! It's really fun to have a good ol' baddie in this script [in Colonel Alexander Hagen] who sincerely believes what he's doing is right.
"It was wonderful to then put Hagen up against Brigadier Bambera. It's great that Bambera, this character who appeared in the Sylvester McCoy era, has really started to take centre stage."
Writer Lizzie Hopley said: "Haunt is hopefully terrifying with lots of mystery, investigations and red herrings. I want people to listen to this on their own in the dark to get the full effect. It's based on a hotel I worked in as a chambermaid for my first job and is inspired by my addiction to horror. I hope that it scares me, even though I know what's coming.
"I was dying to tell everyone that I was doing this! When it was offered to me, I nearly passed out with excitement. I have adored Angela Bruce since I was much younger and starting out as an actress. I'm absolutely honoured."
Script Editor and writer, Robert Valentine, said: "The Last Line of Defence is the rousing climax that celebrates our three heroes as an unstoppable team. The first set was very much about Bambera learning to trust her colleagues and this set is about how the three of them face what's thrown at them together."
Big Finish listeners can save money by buying Volume 1 and 2 of the range together in a bundle for just £38 (collector's edition CD box set + download) or £33 (download only).
All the above prices include the special pre-order discount and are subject to change after general release.
Big Finish is currently operating a digital-first release schedule. The mail-out of collector's edition CDs may be delayed due to factors beyond our control, but allpurchases of this release unlock a digital copy that can be immediately downloaded or played on the Big Finish app from the release date.