We love StoriesBig Finish produce great full-cast audio drama for CD and download, featuring many popular television fantasy series.
Benny is back in six new adventures
25 September 2018
Time travel! Earth invaded! A wedding! Drahvins! The Valeyard! Archaeology! It's the perfect celebration for 20 years of Bernice Summerfield with this latest double bill of box sets starring Lisa Bowerman and Emily Laing as Professor Bernice Surprise Summerfield.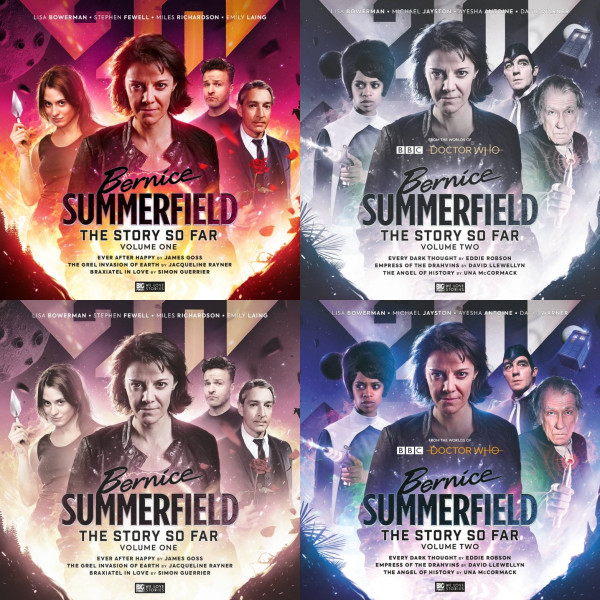 Two three-episode full-cast box sets have been released today to celebrate the 20th anniversary of the archaeologist and Doctor's companion, Bernice Summerfield.
1. Ever After Happy by James Goss
Bernice Summerfield is a young rebel, living in the grounds of a military academy. The enemy fleet's looking for them, there are strange lights in the sky, and a terrible new gardener called Wintergreen.
2. The Grel Invasion of Earth by Jacqueline Rayner
Good Fact: Jason Kane is still in love with Benny!
Additional Fact: He's using the Time Rings to prove it!
Bad Fact: The year is 2150-ish and the Grel have invaded Earth!
3. Braxiatel in Love by Simon Guerrier
Irving Braxiatel likes to collect things, and when he gains a fiancee, Bernice Summerfield can't help but be suspicious. What are her mysterious employer's motives? It can't just be love, can it? Nothing on the Braxiatel Collection is ever that simple. Not even love.
4. Every Dark Thought by Eddie Robson
The Doctor has asked for Benny's help digging up some mysterious ruins. He claims they contain the secret of eternal life. Why would the Doctor want that?
5. Empress of the Drahvins by David Llewellyn
Benny and her friend Ruth honestly don't mean to cause a revolution. When they crashland on the planet Drahva, they just want to get off it immediately. But the fearsome matriarchy has other ideas for Benny and Ruth. For one thing, they need a new empress.
6. The Angel of History by Una McCormack
Annis is an archaeology lecturer at a university. Under fire from friends, students and the police for holding entirely the wrong view of history, the only person who seems to believe her is a mysterious Professor.
Producer James Goss told Vortex Magazine about these two box sets: "Like the original Benny, it was Paul Cornell's idea. He said he'd like stories written by writers from each era of Bernice Summerfield, and he'd like a running theme of friendship and to see her reunited with some of her family.
"So, we've done exactly that. These are six 'missing' adventures from each era of Benny, filling in gaps that you didn't know existed!"
Each of these box sets comes with an additional disc of behind-the-scenes extras and interviews with the cast.
Bernice Summerfield: The Story So Far... Volumes 1 and 2 are available for pre-order individually at £15 on download or £20 on CD.
Or you can save money in a bundle – pre-order Volumes 1 and 2 together for £28 on download or £38 on CD.
You can try a free sampler of the first adventure in the boxsets, Ever After Happy, here.
Recently released in August, we also have a new collection of existing adventures brought to life by Big Finish. Bernice Summerfield: Treasury contains short stories previously only available on paper from notable writers that many Doctor Who viewers and listeners will recognise.
Bernice Summerfield: Treasury is available now, priced at £20 on CD or £15 on download until the end of September – don't miss out on the pre-order price.
And don't forget that Benny has another short story collection coming out this December, with In Time. Bernice Summerfield: In Time will be available on ebook at £12.99, hardback at £16.99 and as a digital audiobook read by Lisa Bowerman at £9.99.
The writers include James Goss, Mark Clapham, Dave Stone, Victoria Simpson, Antonio Rastelli, Simon Guerrier, Peter Anghelides and a new writer found in our writing competition, Doris V Sutherland.