For The Love Of StoriesBig Finish produce fantastic full-cast audio dramas for CD and download.
9 October 2017
As we get closer and closer to the spookiest time of the year, we look at some haunted Halloween treats to see us through until October 31st.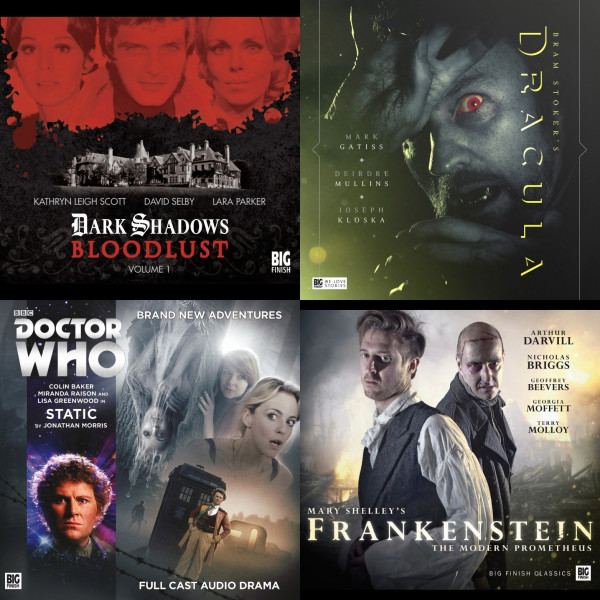 Happy Halloween! The season of terror is upon us and the Big Finish Team went through the archives to find the most haunted tales in Big Finish history!
Where best to start then but with the classics? Big Finish has taken on many gothic tales and given them the Big Finish magic, and we've been very lucky to have some great actors in iconic and unforgettable parts and stories.
Why not start with king of the vampires, Dracula, starring Mark Gatiss in the titular role? This chilling three-hour audio adaptation of Bram Stoker's classic vampire story was dramatised by Jonathan Barnes. The release also includes a bonus CD featuring interviews with Dracula's writer and cast, plus a selection of James Dunlop's soundtrack for the production. Try a free extract here.
When a young solicitor, Jonathan Harker, visits the heart of Transylvania – ostensibly to meet reclusive nobleman Count Dracula – he cannot begin to imagine what horrors might lie in store for him there… or the chain of events he will set in motion at Castle Dracula.
Soon, Dracula's bloodlust spreads to England's shores, and Harker's fiancée, Mina Murray, becomes embroiled in his affairs. Her best friend, Lucy Westenra, falls victim to the vampire's thirst, and it is only with the help of an unlikely bunch of allies that the Count might be defeated… but can the undead ever truly perish?
†¨And for fans of the gothic genre, we have another classic. Based on the novel by Mary Shelley, Frankenstein stars Arthur Darvill (Rory, Doctor Who) as Victor Frankenstein, Nicholas Briggs, Geoffrey Beavers, Terry Molloy and Georgia Moffett (Jenny, The Doctor's Daughter, Doctor Who). Considered to be one of the world's most classic gothic novels, Victor Frankenstein is pursued by a creature that he constructed from dead humans – and brought back to life.
You can get these classic adaptations each at £25 on CD or £20 on download.
And you can also catch Arthur Darvill in our Dark Shadows range (based on the cult 1960s ABC American television series, it's the best place to go for terrifying thrills and tales of the macabre!). Arthur stars in the Listeners' title for October – Speak No Evil, available for download at £2.99.
Recently released in the Dark Shadows range we also have Bloodlust – a collection of thirteen episodes, released twice-weekly in a nod to the soap operas that in part inspired this classic series.
You can start off with the first episode of this chilling saga for free here (why not listen to the whole series from the 18th of this month with an episode a day for the run up to Halloween?).
And for those who like a lighter scare, there's The Tony & Cassandra Mysteries, released last week. She's a witch. He's a private detective. And when they get together, it's magic… Check out the trailer below:
For fans of ghost stories a bit further afield, Dan Starkey takes on the mantle of William Hope Hodgson's supernatural detective, Thomas Carnacki, in a collection of enhanced audiobook readings in Carnacki – The Ghost Finder. At £18 a download, you can try a free tale from this range, The Gateway of the Monster, here.
And for those who can keep the Halloween spirit going until December, the Doctor Who Main Range story Static promises to fill you with fear!
Deep in the heart of nowhere, near a place called Abbey Marston, there's a caravan site. The perfect place to get away from it all. Close by, there's a stone circle they used for human sacrifice in olden times. A little further afield, there's an old RAF research station, where they did hush hush things in the War.†¨†¨
There's only one rule: the use of radios, cassette recorders and portable televisions is strictly forbidden.
†¨†¨People come here to get away from it all, you see. No-one wants to hear the noise. No-one wants to hear the voices in the static…†¨†¨
No-one wants to hear the ghosts.
To celebrate all of these terrifying tales at Big Finish, we have a competition to announce! Send us a message on Facebook or Twitter and tell us what you think is Big Finish's scariest release and why (maximum 50 words) before midnight UK time, Sunday 15th October 2017. The winner with the best suggestion will receive a digital download bundle of every story in the Dark Shadows: Bloodlust range. Good luck!