For The Love Of StoriesBig Finish produce fantastic full-cast audio dramas for CD and download.
Big Finish's 15th Anniversary of Doctor Who releases - Offer 10!
5 August 2014
Fifteen years ago, we released Doctor Who: The Sirens of Time, starting a tradition of audio storytelling for the worlds of Doctor Who and beyond. It's that "beyond" aspect we look at today - it's often said at Big Finish that "We love stories", so where better to look than at some real Classic tale? Read on for exclusive news and pre-order of a new release, another offer, and Nick Briggs revealing the intense difficulties of Big Finish rights-negotiations...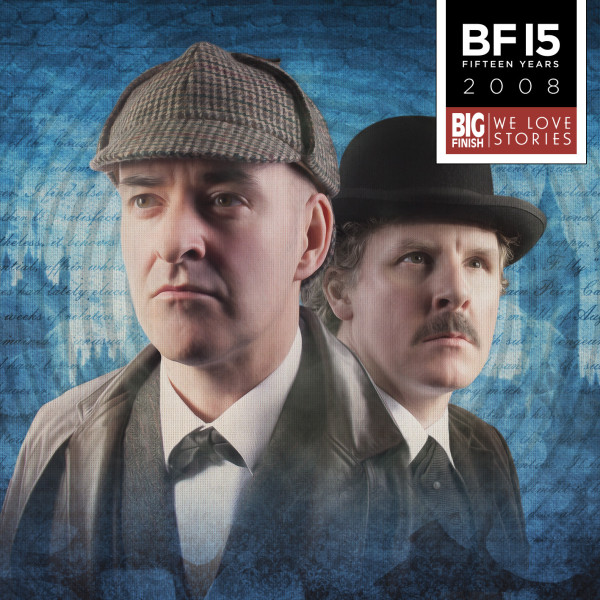 We're very, very pleased to be able to announce the following as part of the Big Finish 15 celebration:

Sherlock Holmes had many secrets. This is the greatest of them.

"Our knowledge of the life and career of Mr Sherlock Holmes is necessarily partial and inexact. Riddled with lacunae and ambiguities, its parameters are defined chiefly by what his friend and colleague, Dr John Watson, saw fit to record. One era in particular – those enigmatic years in which, believed dead at the Reichenbach Falls, the Great Detective roved the world incognito – has been shrouded in obscurity and doubt, the particulars of that time too terrible and too strange to be set down in full.

At least, that is, until now…"


Pre-orders are now available for The Judgement of Sherlock Holmes, a full-cast audio as a four-disc CD set (also available on Download) released in December 2014! The latest in Big Finish's acclaimed Sherlock Holmes series, this Jonathan Barnes-written story sees Nicholas Briggs and Richard Earl reprise their praised Holmes and Watson performances, accompanied by a sterling guest cast including Terrence Hardiman, John Banks, Tim Bentinck, Jemma Churchill and Gemma Whelan.
Also, this morning we're able to reveal:
Ahead of its release this November, Big Finish is pleased to reveal casting for the third series of The Confessions of Dorian Gray, starring Alexander Vlahos as the titular antihero!

'Series three is a bit of a different beast from what's come before,' explains producer and director Scott Handcock. 'Alex and I were both very keen to do something different this time round, and what we have in store will hopefully please long-standing fans of the range, as well as keeping everyone on their toes and delivering something new! Not only have we eight episodes now instead of five, but we're making the most of the extended run to try a few new things, and we're driving Dorian's story in directions we haven't before…'

Also returning alongside Alexander Vlahos's Dorian are a number of familiar characters from previous releases, including Miles Richardson (The Picture of Dorian Gray) as Henry Wotton, David Blackwell (The Fallen King of Britain) as Simon Darlow, and Bernard Holley (The Mayfair Monster) as an older incarnation of Dorian Gray himself.

'There's been a certain joy to building up Dorian's world over the past few series,' continues Scott, 'and we've always had at the back of our mind how certain characters or actors might return, depending on the storylines we're telling. Dorian's no stranger to flashbacks and hallucinations - phantoms even - so it's all too easy to flesh out a bit of backstory should the opportunity arise! But we've also got a whole host of brand-new characters for him to encounter, and a cracking cast on board to play them!'

Doctor Who stars Nicola Bryant and Terry Molloy finally get the opportunity to act alongside one another for the first time since filming Revelation of the Daleks in 1985, and are joined by fellow Doctor Who guest stars Annette Badland (Boom Town), Tracey Childs (The Fires of Pompeii), Barnaby Edwards (Dalek operator), and Edward Harrison, who is set to appear in the forthcoming eighth series alongside Peter Capaldi's Doctor!

Completing the line-up are Sean Biggerstaff (Harry Potter), Blake Ritson (Da Vinci's Demons), Sophie Wu (Fresh Meat), Laura Doddington (Graceless), Toby Longworth, Alex Jordan, Christopher Allen and Andrew Pepper.

The eight-episode series due in November can be pre-ordered now on CD (£20) and Download (£18), and will also include a bonus disc of behind-the-scenes interviews with cast and crew.

For the latest updates, follow the Dorian Gray Twitter account: @DorianGrayBFP

Big Finish's Doctor Who at 15 - Offer 10

For the next forty-eight hours, we mark the start of the Big Finish Classics range in 2008 by making our entire Classic range eligible for a 15% discount. Simply chose your titles, and when prompted give the discount code BIG15F2008 for a 15% on any title. Note that discount codes cannot be used on Subscription orders, but that for the next 48 hours the subscriptions have been reduced by 15% too.
Revisit the Phantom of the Opera, take a voyage to Treasure Island with Tom Baker, or perhaps hang out in 221B for an evening with Holmes and Watson in our other Sherlock Holmes titles (please note that discounts do not apply to pre-orders). This also applies to our entire The Confessions of Dorian Grey series - but please note this range contains adult material and is not suitable for children. Time is also running out on pre-ordering on CD or Download for Big Finish's impending Frankenstein production!

Offer eleven will follow offer ten in but 24 hours. It's a wonderful thing, Time...
A Few Words About 2008


"The Big Finish Classics Range was something that I was very keen for us to do. The driving, creative force behind this at the beginning was Barnaby Edwards, who set the ball rolling with his superb, beautifully crafted adaptation of The Phantom of the Opera. He's since given us a brilliant, vibrant version of Treasure Island, starring Tom Baker. Sherlock Holmes was something we'd talked about for years, but it was really the fact that I got cast as Holmes in a stage show of Brian Clemens's Holmes and the Ripper (at the Theatre Royal Nottingham) that started the ball rolling. After one of the performances, I asked Brian if we could have the rights to his play, expecting to be referred to an agent and long negotiations and he said, 'Yeah, that's fine' and then bought me a drink!"

Nick Briggs, Big Finish writer, producer, and occasional Sherlock Holmes
"I didn't know at the time, but from the very beginning my career as a director has been directly linked to Big Finish. One of the first plays I directed was a production of The Speckled Band, starring Nick Briggs as Sherlock Holmes. Nick was rehearsing the play during the day before rushing home each night to work on the sound design for the very first Big Finish Doctor Who audio play.

Back then I had no idea just how much Big Finish would become part of my life, or how much it would come to define my work. But it feels appropriate that, after several years exploring other parts of the universe, Nick and I would return to Sherlock Holmes.

15 years as an independent production company is a magnificent achievement. Many thanks to Jason, Nick and David for giving me the opportunity to be part of it. And congratulations Big Finish!"
Ken Bentley, Big Finish director and writer
"Given Big Finish's range of talent and expertise, it's probably more than a little surprising to learn that it took almost a decade for them to venture away from established science-fiction franchises and tackle classic literary tales, kicking off with Barnaby Edwards's superb take on The Phantom of the Opera. The Big Finish treatment gave what was potentially a creaky, familiar story a whole new lease of life, and subsequent releases - including Treasure Island, The Picture of Dorian Gray and the forthcoming adaptation of Frankenstein - have followed in its fine footsteps!

I'm especially proud to have been allowed to produce the most recent Classics releases, and was even more thrilled back in 2012 when - after a long time pitching - Jason and Nick greenlit The Confessions of Dorian Gray: a series based on Oscar Wilde's infamous novel, but with an added twist. Instead of working within the fiction of the novel itself, Dorian Gray is a real man. He knew Oscar Wilde, and the book itself was based on him… only, unlike the book, he lived through the whole of the twentieth century… and as a man whose life has already been touched by the supernatural, it's no surprise that he encounters similar beings along the way.

It was always going to be a gamble for Big Finish to originate a range from scratch. True, Dorian had featured as part of a Bernice Summerfield story previously, but that was more a tacit experiment on the part of Gary Russell and myself than any serious attempt at a pilot. Indeed, the series itself is wildly different, and we were obviously delighted with how listeners took to the character and the stories upon release, and have continued to support and invest in his ongoing exploits…

And Dorian's come a very long way as a result of this growing fanbase. Initially recording our very first series in Cardiff, released on download, we've enjoyed two series and three extended specials; shifted from download-only to CD releases also; and now have a longer third run of eight episodes in store for November, which pushes our character in entirely different directions once again, and plays with the established format more than ever!

Production teams have changed - we've had different sound designers, composers, script editors, you name it - meaning, perhaps appropriately given Dorian's nature, the only constant throughout this entire process has been Dorian Gray himself, Alexander Vlahos. Obviously I'm biased, but I genuinely couldn't ask to work with a nicer leading man on a series like this than Alex. He's stupidly passionate about the range. He's generous with his time, both in studio and beforehand, and genuinely cares about what we're delivering to the audience: something which shows in the finished product, and is undoubtedly one of the reasons for the series' continued success. So thank you, Vlahos, for being so good and fun to work with! You know I wouldn't do it without you…

And thank you, Big Finish: thank you for giving us all the opportunity, and for being brave enough to try new things, and use new people! With all the things you have in store, I'm sure this will never change. Happy birthday!"

Scott Handcock, Big Finish Producer, Writer & Director