We love StoriesBig Finish produce great full-cast audio drama for CD and download, featuring many popular television fantasy series.
Big Finish weekly roundup
3 September 2017
It's time for the Big Finish weekly roundup - We had some exciting announcements this week, for Doctor Who, Torchwood and Bernice Summerfield.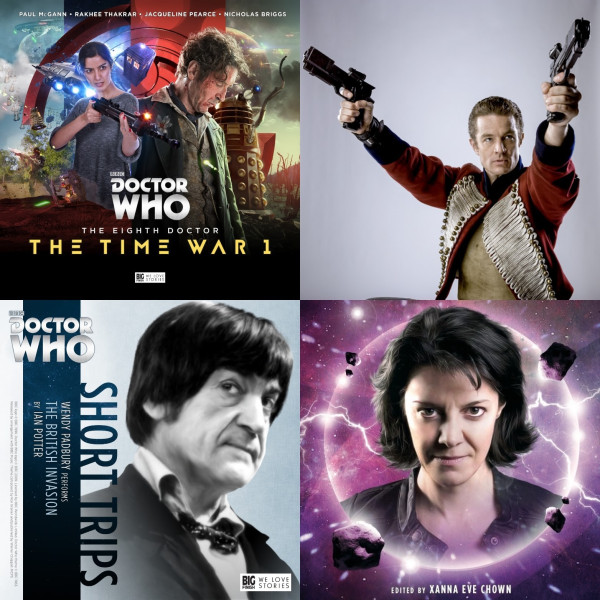 At the time of writing, we still have special offers running on our Sylvester McCoy releases, celebrating 30 years of the Seventh Doctor. From the 2nd September, you can enjoy some of Sylvester McCoy's Lost Stories. Whispered with reverence in fan circles, now you can hear them in full cast audios. Crime of the Century by Andrew Cartmel, Animal by Andrew Cartmel and Earth Aid, written by Andrew Cartmel and Ben Aaronovitch are all available on CD at £6 or £5 on download.
And from the 3rd September, we have further Main Range stories for you to enjoy! The Seventh Doctor continues his adventures with companion-in-adversity, Elizabeth Klein. Try A Thousand Tiny Wings, Survival of the Fittest and The Architects of History today for £6 on CD or £5 on download. Make sure you go to the offer page and enter code seven30 to see all the special offers.
And for the Listeners' title in September, we have The Company of Friends. Get a download copy during September for £2.99.
On Monday we looked at the reviews for the Lives of Captain Jack, which stars John Barrowman, Camille Coduri, Katy Manning and Alexander Vlahos.
On Tuesday there was the release of the Doctor Who Short Trip The British Invasion, read by Wendy Padbury.
A huge metal dome sits by the side of the river Thames, within it is a device that might change the entire future of humanity. The Doctor, Zoe and Jamie embark on a small act of kindness but the TARDIS seems oddly unwilling to help. It's as if it knows the truth. There is something waiting here, something adaptable and cunning, gathering its strength to conquer the stars.
On Wednesday there was some big Torchwood news, with the return of Captain John Hart played by James Marsters in The Death of Captain Jack, out in April 2018.
On Thursday fans of the Eighth Doctor were excited with the reveal of the cover and synopses of the Time War, starring Paul McGann and Rhakhee Thakrar.
And Saturday saw more information and an exclusive sneak peak into the upcoming Bernice Summerfield True Stories ebook and hardbook – read the first couple of pages here.
For podcast aficionados, Toby Hadoke continues his chat with an actor who's played opposite four Doctors, and Nick and Benji interview Karen Gledhill (Allison in Doctor Who spin-off Counter Measures) and continue a tease of the Prisoner Volume 2 in the Big Finish podcast.