For The Love Of StoriesBig Finish produce fantastic full-cast audio dramas for CD and download.
Blake's 7 - putting the terror into Terra Nostra
16 January 2022
The Terra Nostra has returned – after more than forty years – to cause chaos within The Worlds of Blake's 7 as the latest audio box set is released today by Big Finish Productions.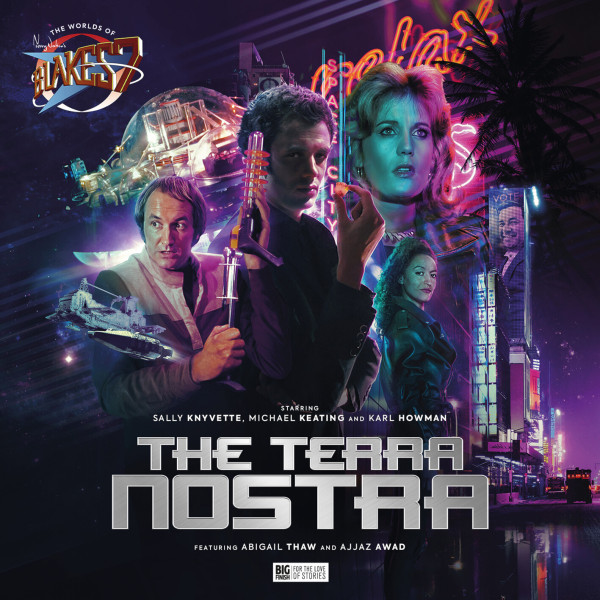 Vila (Michael Keating) and Jenna (Sally Knyvette) initially faced the lethal intergalactic criminal organisation, the Terra Nostra, in the 1979 BBC TV episode Shadow. Now, exactly 43 years to the day since that broadcast, comes another tumultuous encounter...
This isn't a universe where it's obvious who are the good guys and who are the villains. It is complicated – people have morally complex decisions to make and there are people who are genuinely unpleasant because... that's just who they are.
This new trio of full-cast audio adventures also features Abigail Thaw (reprising the role of psycho-strategist Hinton from previous box sets in the range, The Clone Masters and Bayban the Butcher), Rebecca Sarker (currently starring in ITV's Emmerdale) and the long-awaited return to The Worlds of Blake's 7 of Karl Howman.
The Worlds of Blake's 7: The Terra Nostra is now available to own as a collector's edition CD box set (for just £19.99) or digital download (for just £16.99), exclusively from the Big Finish website here.

The Terra Nostra deal in whatever's dirty, degrading, and cruel on every civilised world. Weapons, racketeering, smuggling, assassinations, territory disputes. Their tentacles stretch and unfurl across the galaxy.

Jenna and Vila each learn the hard way that they can never escape the Terra Nostra's plots and conspiracies.

The three explosive stories in the box set are:
Stimulus/Response by James Kettle
Jenna Stannis has resumed her smuggling career after leaving the Liberator, and Stor Jayden is a dream location to unload her contraband. 
The Terra Nostra have other ideas. And with a reformist president recently elected on the planet, can Jenna escape with her cargo – or her life?
Entrapment by Robert Valentine
A heist to rip off the Terra Nostra requires a master cracksman. Fortunately for Kyzer Frik, he's found one. Unfortunately for Vila Restal, it's him.
But as Frik comes to suspect a spy in his crew, how long before he decides that it's reluctant member Vila?
The Offer by Peter Anghelides
Fleeing from his enemies, Vila Restal sneaks back into Space City. But it's more difficult than he thought to get rescued – especially when he discovers he can't trust an old friend. 
To save himself, must he betray the Liberator crew to the Terra Nostra?
Actor Michael Keating said: "It's great fun and I'm sure the listeners will love it. We're telling an interesting story – it's Dickensian in a way. I've done many Big Finish Blake's 7 series before and they've all been very enjoyable."

Actor Sally Knyvette added: "I was very pleased when I read the script. It's great to see Jenna finally being the person that I always really thought she was – a feisty freedom fighter intergalactic space pirate.
"I think she's got some darker sides to her than I originally thought but she's a survivor. It's very in tune with today's attitude towards women. She's such a great character and this time I feel as though I can bring more colour and depth to her.
"I've thoroughly enjoyed it and I think audio is such a great medium that allows each individual listener to use their imagination."
The Worlds of Blake's 7: The Terra Nostra is now available to own as a collector's edition 3-disc CD box set (+ download at £19.99) or digital download only (at £16.99) from www.bigfinish.com. It can also be purchased in a bundle with forthcoming tie-in audio novel Zero Point (digital download only) from just £25.
Big Finish listeners can save even more by ordering a bundle of three of The Worlds of Blake's 7 box sets – The Clone Masters, Bayban the Butcher & The Terra Nostra – for £80 on collector's edition CD (+ download) and £70 on download only.
All the above prices include the special pre-order discount and are subject to change after general release.
Plus, previous releases in the range The Worlds of Blake's 7: Avalon 1 & 2 are available together in a bundle for £38 on CD (+ download) or £33 on download.

Praise for The Worlds of Blake's 7: Avalon Vol 2:
"These adventures offer a fresh angle on resistance to the Federation."
Indie Mac User

"The voices tell the story, but it's the sound environment that lifts them out of a studio into the world of our imagination."
Blake's 7 Online

"Here's hoping there's more Avalon in the future, because it feels like a series that could run and run."
Warped Factor
Big Finish is currently operating a digital-first release schedule. The mail-out of collector's edition CDs may be delayed due to factors beyond our control, but all purchases of this release unlock a digital copy that can be immediately downloaded or played on the Big Finish app from the release date.