For The Love Of StoriesBig Finish produce fantastic full-cast audio dramas for CD and download.
Bounty hunter Vienna - behind bars
20 February 2018
Starring Chase Masterson as the impossibly-glamorous reformed bounty hunter turned detective, Vienna Salvatori must survive life behind bars in this new adventure, Vienna: Retribution.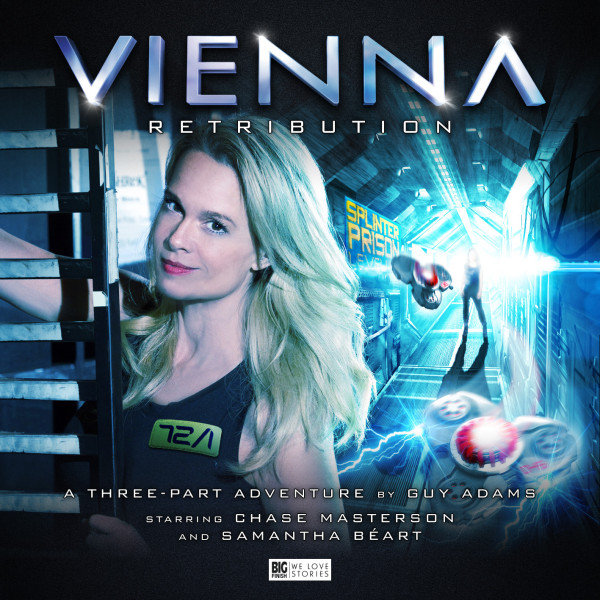 After a terrific launch at Gallifrey One and now available at Big Finish on CD and download, Vienna is charged with life in prison for murder in Vienna: Retribution.
"Does the prisoner have any last words?"
Vienna Salvatori used to be a dangerous woman.
Vienna Salvatori used to be an assassin.
Vienna Salvatori has changed her ways.
Hasn't she?
After setting up a detective agency with her partner Jexie Reagan, Vienna has left her dark past behind her. Together, they bring villains to justice and right wrongs. Together, they are a team. But all that changes when a woman is killed in cold blood and Vienna is charged with the murder.
Vienna is sent to a hellhole of a prison with no hope of parole or release. But not all is what it seems on board the Splinter. With no means to escape, and no idea who she can trust, can Vienna survive life on the inside?
Written by Guy Adams, directed by Scott Handcock and produced by Cavan Scott, this release stars Chase Masterson as Vienna reunited with Samantha Béart as Jexie Reagan. Also joining the cast are Annette Badland as Mama Val, Samuel Harris as Ratz, Colin McFarlane as Rex Needle, Edward Harrison as Prosecutor Grover, Emma Cunniffe as Sharwell Ness, Adam Redmore as the judge, and Alex Jordan as the news anchor.
Chase Masterson talks all things Retribution in this month's Vortex, "This release is a fun new angle on Vienna – she's deep in prison, and it doesn't look likely that she'll ever see the light of day. No spoilers, but she's gotta use all her wits to get out of this one – and it's a challenge for the audience to think ahead about whether that can happen. The fun thing about Vienna is that she's both smart and often seems a bit mental. And what's more British than that?!" (Catch more in this month's Vortex)
You can get this latest Vienna adventure now at £20 on CD or £15 on download. Don't forget all CD purchases unlock a download option on the Big Finish app or the Big Finish website.
And if you've yet to travel with the impossibly glamorous bounty hunter, you can listen to Vienna's first ever adventure at Big Finish, The Shadow Heart, on download at £2.99. This story, starring Sylvester McCoy, sees the Seventh Doctor clashing with the not-yet reformed Vienna...
It's been fifty years since the Doctor last visited this sector of space. And one man in particular has been awaiting his return. As the mistakes of his past come back to haunt him, and with a price on his head and bounty hunters on his tail, the Doctor is heading for a last reckoning.
The pieces are finally coming together. Somewhere deep within The Shadow Heart.