5. Vienna: Retribution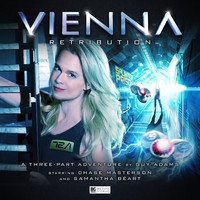 Released February


Prices
CD
US $27.85
Download
US $15.00

Web Special Price!

Synopsis
9/10 "For those who haven't listened to anything with Vienna, 'Retribution' is the time to change that. Chase Masterson is just superb. From her very first scene she expertly brings Vienna to life. The writing is top notch and, over the course of three episodes, Guy Adams weaves a brilliant tale that director Scott Handcock effortlessly brings to life." Blogtor Who
"Chase Masterson and Samantha Béart put Vienna and Jexie through the wringer beautifully. Their performance layers had performance layers." SciFi Pulse
This title was released in February 2018. It will be exclusively available to buy from the BF website until March 31st 2018, and on general sale after this date.
A brand new three part adventure for glamorous bounty hunter Vienna Salvatori.
"Does the prisoner have any last words?"
Vienna Salvatori used to be a dangerous woman.
Vienna Salvatori used to be an assassin.
Vienna Salvatori has changed her ways.
Hasn't she?
After setting up a detective agency with her partner Jexie Reagan, Vienna has left her dark past behind her. Together, they bring villains to justice and right wrongs. Together, they are a team. But all that changes when a woman is killed in cold blood and Vienna is charged with the murder.
Vienna is sent to a hellhole of a prison with no hope of parole or release. But not all is what it seems on board the Splinter. With no means to escape, and no idea who she can trust, can Vienna survive life on the inside?
Written By: Guy Adams
Directed By: Scott Handcock
Cast
Chase Masterson (Vienna Salvatori), Samantha Béart (Jexie Reagan), Annette Badland (Mama Val), Samuel Harris (Ratz), Colin McFarlane (Rex Needle), Edward Harrison (Prosecutor Grover), Emma Cunniffe (Sharwell Ness), Adam Redmore (Judge / Drones), Alex Jordan (News Anchor, Drones, Prisoner, Police)
Producer: Cavan Scott
Line Producer: David Richardson
Executive Producers: Jason Haigh-Ellery and Nicholas Briggs