For The Love Of StoriesBig Finish produce fantastic full-cast audio dramas for CD and download.
Burn Gorman and Rowena Cooper back for more Torchwood adventures
12 March 2020
Forthcoming story details and cover artwork have been revealed for two exciting full-cast audio dramas in Big Finish's 2020 Torchwood series.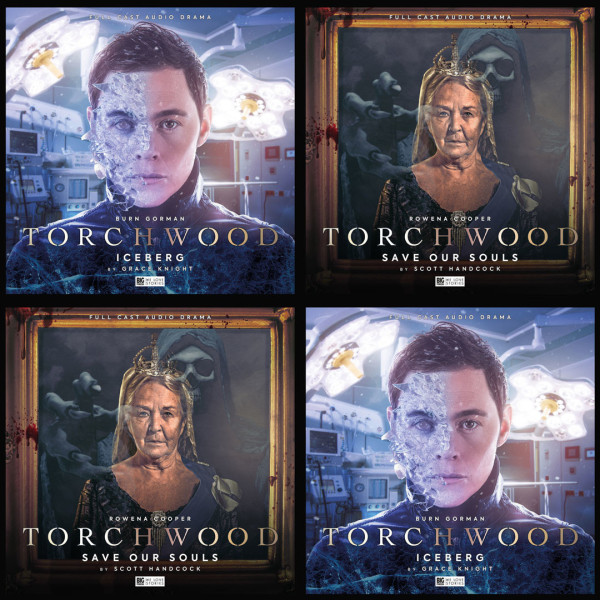 Hunger for new Torchwood adventures has reached fever pitch since the complete television series was added to BBC iPlayer for on demand viewing in February. Big Finish's new audio series kicks off in April with Tropical Beach Sounds and Other Relaxing Seascapes #4, read by Sir Michael Palin.
In May, Burn Gorman returns as Torchwood's Owen Harper, in a creepy medical story, followed in June by Gareth David-Lloyd's self-penned Ianto Jones adventure entitled Dinner and a Show (story details to come nearer the release date), and then Rowena Cooper is back as the redoubtable Queen Victoria for July's tale.
Each of these Torchwood releases is now available for pre-order as a collector's edition CD at £10.99 or on download at £8.99 from the Big Finish website.
Dr Owen Harper's called to the hospital. There's a ward full of remarkable coma patients and more are coming in. Each patient came in with a dead relative as their imaginary friend.
Has Owen really discovered a bridge between the living and the dead?
Save Our Souls by Scott Handcock
An experimental radio mast has been set up on a remote island. It has been picking up signals – a voice that claims it knows the future.
Five people have come to the island to hear the voice. A scientist, a soldier, a medium, an alienist and the most powerful woman in the world. The voice has something to say to all of them. It starts by saying who will be the first to die.
Producer, James Goss said: "Grace has written what's both a quiet character piece about 'Why is Dr Owen Harper such a piece of work?' and also an epic alien invasion story. It all begins with a late-night phone call and a ward full of coma patients who wake up only to talk to the dead.
"Meanwhile, as part of our mini-celebrations of Queen Victoria's bicentennial year, we've another look at the early days of Torchwood. As a voice starts to predict the future on a remote island, it's a chilling blend of Agatha Christie and MR James."
Each of these Torchwood releases is now available for pre-order as a collector's edition CD at £10.99 or on download from the Big Finish website at £8.99.
Subscribers to the Big Finish Torchwood range can save money by pre-ordering a bundle of forthcoming stories. A six-release bundle is £60 on CD or £50 on download, or you can save even more money by ordering all twelve Torchwood releases together at £110 on CD or £94 on download.
Please note that Torchwood contains adult material and may not be suitable for younger listeners.